Monday, 17 June 2019 13:32
We start this week with a great new Blu-ray review, this one of Scream Factory's Universal Horror Collection, Volume 1 box set, which includes The Black Cat (1934), The Raven (1935), The Invisible Ray (1936), and Black Friday (1940). Do give it a look.
Also, just a heads-up: We're going to be reviewing Warner Archive's new Jonny Quest: The Complete Series Blu-ray soon. A review copy is on the way.
And we've posted the weekly update of the Release Dates & Artwork section featuring all of the latest Blu-ray, DVD, and 4K cover artwork with Amazon.com pre-order links. As always, whenever you order literally anything from Amazon after clicking to them through one of our links, you're helping to support our work here at The Bits and we really do appreciate it. [Read on here...]
Monday, 06 May 2019 12:14
All right, I'm back on Facebook finally and things seem to be settling back to some kind of normal. So today's post is going to have a lot of 4K news, with a bit of Blu-ray too, and then we'll have a big Blu-ray catch up post tomorrow...
First though, we've got a couple more new Blu-ray reviews for you: Tim has taken a look at Scared Stiff from Arrow Video, while Dennis has offered his thoughts on The Man Who Haunted Himself (1970) from Kino Lorber Studio Classics. Enjoy!
Now then, we have a bunch of great 4K Ultra HD release news for you, starting with confirmation that Guillermo del Toro's Pan's Labyrinth is officially coming to the format from Warner and New Line in July. We don't yet have a street date, but it's already up for pre-order here on Amazon (you can see the cover artwork at left and also below). And I must say, of all the titles that could benefit from 4K, wide color gamut, and HDR, this is near the top of the list! Of course, we'll post more details when they're officially announced. [Read on here...]
Wednesday, 10 April 2019 16:05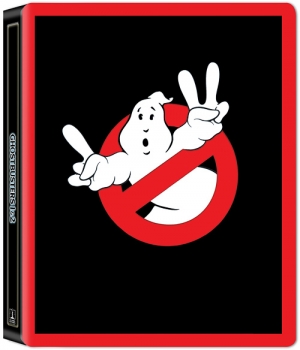 All right, we've got a few items for you guys today here at The Bits...
First up, I know some of you guys are big fans of the Fast and Furious franchise, so you might be interested in this: Amazon is now taking pre-orders on Universal's Fast & Furious and Fast Five on 4K Ultra HD. Each will feature DTS-X object based audio. Street date is 6/11. I've included cover artwork at below (and you'll find the Amazon pre-order links down there too.
I've also posted the artwork for Universal's The Scorpion King, which streets on 4K on 6/18 and is also available for pre-order.
Now then, the big news today is that Sony Pictures Home Entertainment has announced a new Ghostbusters & Ghostbusters II Steelbook 4K Ultra HD release on 6/11 that will include a new special features disc with more than two hours of "long-requested and rare archival elements—including never-before-seen deleted scenes from the first film—along with returning interviews, effects breakdowns, multi-angle explorations and much more! Both films also feature brand new commentaries, featuring the filmmakers on Ghostbusters II and passionate fans with deep-cut insights on Ghostbusters." You can see the cover artwork to the left. [Read on here...]