Displaying items by tag: The Holy Mountain
Wednesday, 10 April 2019 18:05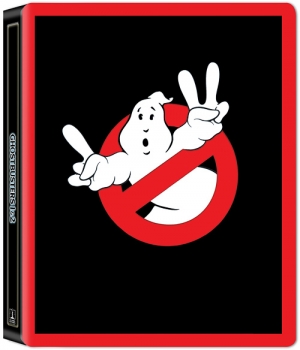 All right, we've got a few items for you guys today here at The Bits...
First up, I know some of you guys are big fans of the Fast and Furious franchise, so you might be interested in this: Amazon is now taking pre-orders on Universal's Fast & Furious and Fast Five on 4K Ultra HD. Each will feature DTS-X object based audio. Street date is 6/11. I've included cover artwork at below (and you'll find the Amazon pre-order links down there too.
I've also posted the artwork for Universal's The Scorpion King, which streets on 4K on 6/18 and is also available for pre-order.
Now then, the big news today is that Sony Pictures Home Entertainment has announced a new Ghostbusters & Ghostbusters II Steelbook 4K Ultra HD release on 6/11 that will include a new special features disc with more than two hours of "long-requested and rare archival elements—including never-before-seen deleted scenes from the first film—along with returning interviews, effects breakdowns, multi-angle explorations and much more! Both films also feature brand new commentaries, featuring the filmmakers on Ghostbusters II and passionate fans with deep-cut insights on Ghostbusters." You can see the cover artwork to the left. [Read on here...]
Wednesday, 14 February 2018 14:47
Tim has another couple of disc reviews for you today, starting with the Pulp: Special Edition on Blu-ray from Arrow Video and Beyond the Seventh Door on DVD from Severin Films and Intervision. Do give them a look.
In announcement news today, Universal has officially set Craig Gillespie's twisted comedy I, Tonya for release on Blu-ray and DVD on 3/13, with the Digital release expected on 3/2. The film stars Margo Robbie and Allison Janney. It's quite good.
Warner Bros. Home Entertainment will release the anime Batman Ninja on Blu-ray and DVD on 5/8. The BD will include English dubbed audio as well as the original Japanese audio with English subtitles. Strangely, there are also plans to release it in 4K but digitally only this summer, not on 4K UHD Blu-ray. That seems like a mistake to me, but I suppose that if the Blu-ray sells well the studio could reconsider. Extras will include 3 featurettes (East/West Batman, Batman: Made in Japan, and New York Comic Con Presents Batman Ninja). The Blu-ray will also be available in regular and Steelbook versions. [Read on here…]
Friday, 06 September 2013 16:07
All right, we're wrapping up a week of reviews with still more reviews!
Our own Tim Salmons has turned in a look at Disney's new The Many Adventures of Winnie the Pooh on Blu-ray, which is not only a terrific classic animated film but it looks like the disc is pretty good too. Don't miss it!
Also today, we've upgraded nine more older Blu-ray reviews from The Original Bits into the new database, including Terry Gilliam's The Adventures of Baron Munchausen, David Lynch's Blue Velvet: 25th Anniversary Edition and Richard Rush's The Stunt Man from Dr. Adam Jahnke, Alejandro Jodorowsky's El Topo and The Holy Mountain from Doogan, Danny Boyle's Sunshine from the late great Barrie Maxwell and my own reviews of a pair of great space documentaries, The Wonders of the Solar System and The Wonder of It All, as well as Zhang Yimou's visually stunning and poetic Hero. Enjoy!
Also here at The Bits today, we've now got a complete and official listing of all the extras that will be included on Warner's newly-announced Blu-ray Disc versions of Pacific Rim (due on 10/15). Here's what to look for... [Read on here...]