Displaying items by tag: Fast Five 4K
Wednesday, 10 April 2019 18:05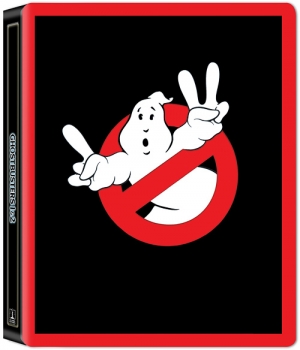 All right, we've got a few items for you guys today here at The Bits...
First up, I know some of you guys are big fans of the Fast and Furious franchise, so you might be interested in this: Amazon is now taking pre-orders on Universal's Fast & Furious and Fast Five on 4K Ultra HD. Each will feature DTS-X object based audio. Street date is 6/11. I've included cover artwork at below (and you'll find the Amazon pre-order links down there too.
I've also posted the artwork for Universal's The Scorpion King, which streets on 4K on 6/18 and is also available for pre-order.
Now then, the big news today is that Sony Pictures Home Entertainment has announced a new Ghostbusters & Ghostbusters II Steelbook 4K Ultra HD release on 6/11 that will include a new special features disc with more than two hours of "long-requested and rare archival elements—including never-before-seen deleted scenes from the first film—along with returning interviews, effects breakdowns, multi-angle explorations and much more! Both films also feature brand new commentaries, featuring the filmmakers on Ghostbusters II and passionate fans with deep-cut insights on Ghostbusters." You can see the cover artwork to the left. [Read on here...]
Friday, 22 March 2019 12:59
All right... we've got some big 4K Ultra HD news today, folks.
We can now confirm the street dates for a number of new and catalog 4K Ultra HD titles that we've been hearing about from our sources for several months now. But enough independent sources are lining up now that we feel comfortable telling you the following:
Disney and Marvel's Captain Marvel will arrive on Blu-ray, DVD, and 4K Ultra HD on 6/11.
That same day (6/11), Paramount is delivering 13 Hours: The Secret Soldiers of Benghazi to 4K.
Universal Studios Home Entertainment has also set a few good catalog titles for release on 4K on 6/11, including Fast & Furious, Fast Five, and a Fast & Furious: 8 Movie Collection in 4K. [Read on here...]
Friday, 08 February 2019 15:12
All right, Warner Bros. Home Entertainment has officially set director James Wan's Aquaman for release on Blu-ray, DVD, and 4K Ultra HD on 3/26, with the Digital release expected on 3/5. Amazon and a couple of other retailers (including Zavvi and Amazon.co.uk, Amazon.de, etc) are currently listing a Blu-ray 3D SKU, but one wasn't not mentioned in the studio's official press release. So we'll have to wait and see if it actually appears. US Retail exclusives including book packaging at Target, Steelbook packaging at Best Buy. Note that the 4K will feature Dolby Vision HDR and Dolby Atmos audio (the Blu-ray will also include Atmos).
Extras will include 12 featurettes (Going Deep Into the World of Aquaman, Becoming Aquaman, James Wan: World Builder, Aqua Tech, Atlantis Warfare, The Dark Depths of Black Manta, Heroines of Atlantis, Villainous Training, Kingdoms of the Seven Seas, Creating Undersea Creatures, A Match Made in Atlantis, and Scene Study Breakdowns) and an Exclusive Sneak Peek of Shazam!
Now then... before we get into more release news, we have some new Blu-ray reviews for you here at The Bits today. Tim has checked in with his thoughts on Severin Film's All the Colors of Giallo and Dread Central Presents' Dry Blood. Enjoy! [Read on here...]