Displaying items by tag: Zombieland 4K
Monday, 15 July 2019 13:55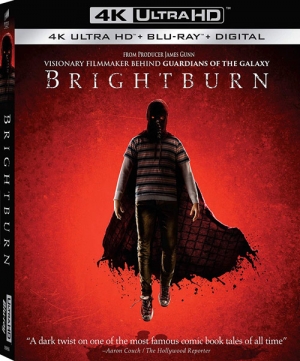 We're back! I have returned from North Dakota, rested, and am now going to be posting like gangbusters here at The Bits, with all kind of Blu-ray, DVD, and 4K release news, catch-up, and whatnot.
First up this morning, today is Amazon Prime Day! As you probably now if you've been following The Bits for any length of time, our Amazon affiliate links play a big part in helping us to keep the site going in lean Internet advertising times. So... if you're planning to do any shopping from Amazon today (or any day), please consider clicking to them from one of our links first (like this one). It makes a huge difference for us. So thank you for doing so!
Now then, Tim and Dennis have been very busy posting Blu-ray reviews this past week here at The Bits and we want to direct your attention to them. We now have reviews up for Lionsgate's The Evil Dead (1981) in 4K, Scream's Night of the Creeps: Collector's Edition, Silent Hill: Collector's Edition, and Piranha: Limited Edition Steelbook, Arrow Video's American Horror Project: Volume Two, The Andromeda Strain, and FM, Severin Films' Robowar, and Grindhouse Releasing's The Tough Ones (1976) from Tim, as well as Warner's Shazam!, Arrow Academy's The Big Clock (1948), and Twilight Time's Stagecoach (1966) from Dennis. Do be sure to check them all out.
Also, San Diego Comic Con kicks off this week and if you're going to be there, Bits editor and author Bill Hunt (yours truly) is on two panels at the Con... [Read on here...]
Tuesday, 02 July 2019 17:08
All right, we got some goodies for you today...
First, Tim has turned in a new review of Sam Raimi's The Evil Dead in 4K Ultra HD from Lionsgate and Studio Canal.
Also, this week's update of the Release Dates & Artwork section is now live with all the latest Blu-ray, DVD, and 4K Ultra HD cover artwork and Amazon.com pre-order links. Whenever you plan to shop from Amazon for literally anything, please consider starting by clicking through one of our affiliate links (like this one or any of our cover art links) as it really helps us to keep the site going and supports our work. Thank you!
And I should also let you know that I'm going to be taking a week off of regular news posts here at the site to A) visit family in North Dakota and B) finish editing this science fiction novel I've been working on. (In truth, I also need a break before all the Comic-Con 2019 hubbub begins.) But Tim will be posting new Blu-ray reviews the whole time, and I'll be back with a big news update (and reviews of my own) late next week.
Now then... we've got some announcements this afternoon. First up, Sony Pictures Home Entertainment will release Ruben Fleischer's Zombieland on 4K Ultra HD on 10/1 in celebration of the film's 10th anniversary and also the theatrical release of its forthcoming sequel, Zombieland: Double Tap. All of the existing BD extras will carry over and you'll get the all-new Raised from the Dead: Zombieland a Decade Later featurette. The 4K will include HDR10 and a new Dolby Atmos audio mix too. [Read on here...]