Displaying items by tag: Riddick
Wednesday, 20 November 2013 14:48
All right, we have a new review for you: Tim's checked out Luis Buñuel's 1967 surrealist classic Belle de Jour on Blu-ray from Criterion. More BD reviews are on the way tomorrow and Friday, so be sure to check back.
Our own Russell Hammond has also checked in with this week's Release Dates & Artwork update, featuring all the latest Blu-ray, DVD and Video Game cover artwork and Amazon.com pre-order links. Keep in mind that the section now includes Xbox One and PS4 games. A portion of anything you order from the retailer after clicking to them though our links goes to help support our work here at The Bits and we surely do appreciate it!
Now then, let's have some announcement news... [Read on here]
Wednesday, 13 November 2013 13:33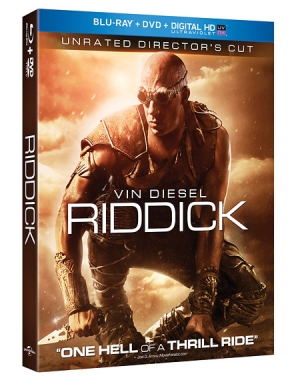 Morning, folks. We've had pretty strong response to our column from yesterday about out-of-control retail Blu-ray exclusives. Seems like a lot of you are irritated by this trend as taken to its recent extreme.
Meanwhile, we've got some new announcement and release news for you today…
The big news is that Universal has set Riddick for release on Blu-ray/DVD Combo on 1/14. The digital release will happen on 12/17. The BD will include an unrated director's cut version of the film. Extras will include 6 featurettes (Riddick: Blindsided, Meet the Mercs, Vin's Riddick, The World of Riddick, Riddickian Tech and The Twohy Touch). There will also be a new Riddick: Complete Collection on Blu-ray that same day that includes Pitch Black, The Chronicles of Riddick, Dark Fury and Riddick in one package. [Read on here…]
Tuesday, 15 October 2013 16:01