"While Octopussy may always be fated to be best remembered as the Bond film that went head-to-head with Never Say Never Again, its real legacy was to reaffirm the relevance of the series to an increasingly sophisticated international audience that was being presented by a resurgent action movie genre which was offering whole new levels of cinematic spectacle and excess." — 007 historian Thomas A. Christie

The Digital Bits is pleased to present this retrospective commemorating the 35th anniversary of the release of Octopussy, the thirteenth (official) cinematic James Bond adventure and the sixth (of seven) to star Sir Roger Moore as Agent 007.
Our previous celebratory 007 articles include Casino Royale (1967), Tomorrow Never Dies, Die Another Day, Dr. No, The Living Daylights, The Spy Who Loved Me, You Only Live Twice, Diamonds Are Forever, Casino Royale, For Your Eyes Only, Thunderball, GoldenEye, A View to a Kill, On Her Majesty's Secret Service, Goldfinger, and 007… Fifty Years Strong.
The Bits continues the series with this retrospective featuring a Q&A with an esteemed group of James Bond historians who discuss the virtues, shortcomings and legacy of Casino Royale (1967). [Read on here...]
The participants for this segment are (in alphabetical order)….
Ajay Chowdhury is the author (with Matthew Field) of Some Kind of Hero: The Remarkable Story of the James Bond Films (The History Press, 2015; updated paperback edition to be released in July 2018). Born in London and read Law at university there and in The Netherlands, Ajay has consulted on various motion picture, music, publishing, television and theatrical projects and has been involved with British and European feature film production in various capacities including developing screenplays and raising finance. He was the associate producer on Lost Dogs (2005) and Flirting with Flamenco (2006) and has been an Advisory Board member on Tongues On Fire who present the London Asian Film Festival.
Thomas A. Christie is the author of The James Bond Movies of the 1980s (Crescent Moon, 2013). His other books include The Spectrum of Adventure: A Brief History of Interactive Fiction on the Sinclair ZX Spectrum (Extremis, 2016), Mel Brooks: Genius and Loving It! (Crescent Moon, 2015), Ferris Bueller's Day Off: Pocket Movie Guide (Crescent Moon, 2010), John Hughes and Eighties Cinema: Teenage Hopes and American Dreams (Crescent Moon, 2009), and The Cinema of Richard Linklater (Crescent Moon, 2008). He is a member of The Royal Society of Literature, The Society of Authors and The Federation of Writers Scotland.
John Cork produced the special features for the home entertainment release of Octopussy. He is the author (with Collin Stutz) of James Bond Encyclopedia (DK, 2007) and (with Bruce Scivally) James Bond: The Legacy (Abrams, 2002) and (with Maryam d'Abo) Bond Girls Are Forever: The Women of James Bond (Abrams, 2003). He is the president of Cloverland, a multi-media production company. Cork also wrote the screenplay to The Long Walk Home (1990), starring Whoopi Goldberg and Sissy Spacek. He wrote and directed the feature documentary You Belong to Me: Sex, Race and Murder on the Suwannee River for producers Jude Hagin and Hillary Saltzman (daughter of original Bond producer, Harry Saltzman). He contributed new introductions for the original Bond novels Casino Royale, Live and Let Die, and Goldfinger for new editions published in the U.K. by Vintage Classics in 2017.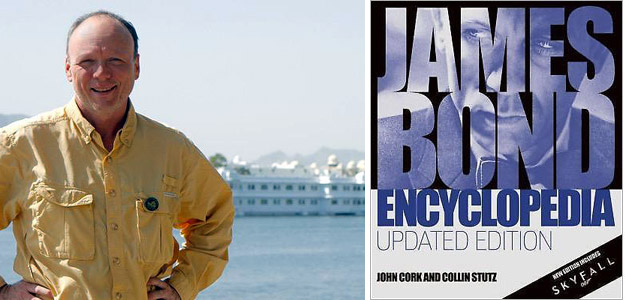 Lee Pfeiffer is the author (with Dave Worrall) of The Essential Bond: The Authorized Guide to the World of 007 (Boxtree, 1998/Harper Collins, 1999) and (with Philip Lisa) The Incredible World of 007: An Authorized Celebration of James Bond (Citadel, 1992) and The Films of Sean Connery (Citadel, 2001). Lee was a producer on the Goldfinger and Thunderball Special Edition LaserDisc sets and is the co-founder and Editor-in-Chief of Cinema Retro magazine, which celebrates films of the 1960s and 1970s and is "the Essential Guide to Cult and Classic Movies."
The interviews were conducted separately and have been edited into a "roundtable" conversation format.
And now that the participants have been introduced, might I suggest preparing a martini (shaken, not stirred, of course) and cueing up the soundtrack album to Octopussy, and then enjoy the conversation with these James Bond authorities.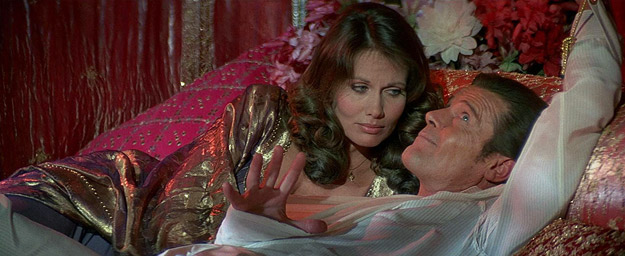 Michael Coate (The Digital Bits): In what way is Octopussy worthy of celebration on its 35th anniversary?
Ajay Chowdhury: To help understand why the film is worthy of celebration now, one must first understand the context in which Eon's 13th Bond film was unleashed. Upon its release in 1983, Octopussy celebrated James Bond's 21st cinematic birthday. With the likes of then-President Ronald Reagan toasting a fictional 007 on a promotional TV show, James Bond came of age. Implicitly, faced with Sean Connery's return as Ian Fleming's agent in Never Say Never Again, Octopussy pulled out all the Eon stops: a repositioned Whitehall brigade of M (now played by Robert Brown), Moneypenny (assisted by Penelope Smallbone) and Q (in his largest role yet), overt use of Monty Norman's James Bond Theme ("Such a charming tune") and innovative action on air and on land, helmed by now confident Bond veteran, John Glen. All this anchored by the late, great Roger Moore in an age-defying, sixth and confident turn as the character which, by now, he had made his own.
Thomas A. Christie: Strangely, given that Octopussy is generally regarded as one of the more slow-moving and character-driven entries in the Bond cycle, it is easy to forget just what a gift it was for the media at the time. With Sean Connery reprising the role for the first time in over a decade in the independently-produced Never Say Never Again in the same year, and the very real question of whether Roger Moore would be moving on from the role, the series would achieve renewed cultural relevance with much attention being focused upon the question of which movie would win the head-to-head battle between two vastly popular Bond actors. While Octopussy would ultimately emerge victorious at the box-office, the Cold War-centric plots of both films gave them a contemporary edge and sense of socio-cultural significance that had debatably been on the wane for some years, re-energizing audience interest at a time when the action movie genre was entering a kind of cinematic golden age that would continue throughout the 1980s and beyond. Yet in a number of ways Octopussy was also slightly atypical for a Bond movie at the time, deliberately paring back a reliance on overly familiar tropes in ways which allowed a pertinent, timely geopolitical parable to emerge throughout the narrative with greater confidence than in many other features of the cycle.
John Cork: Octopussy represents James Bond as one of the worst secret agents in the history of espionage, and yet he's so self-assured, so smug that he takes the day. This is a film with audacity, absurdity, unintentional comedy, a painfully boring theme song, but it just works. This is a movie where Bond dresses up both as a gorilla and a clown, a movie filled with twins / doppelgangers, a Bond movie that seems to harken to the past rather than the future, but it is always fun to watch.
The movie's pre-credits scene is a perfect example: Bond drives to a horse show conveniently next to a military base in an Argentina-like country. This was shortly after the Falklands War, but all the military officials look like they were extras from the Woody Allen film, Bananas. Bond coolly adopts the disguise of a Colonel whose name he clearly does not know, then starts to leave before he's reminded that he needs to put on his fake mustache. He promptly gets captured and is only saved because his trusty accomplice Bianca is paying attention. For reasons that completely defy logic, two of his guards taking him off-base in a jeep are wearing parachute packs on their backs. In the history of all the militaries in all the world, no security detail for a prisoner in a jeep has ever worn a parachute. Bond soon hops into the BD-5J "Acrostar" jet which, apparently, he did not properly fuel. A few minutes into his flight, he seems surprised when it runs out of gas. But the scene is brilliantly entertaining. Audiences loved every second of it. Using old-school effects, a real Bede jet, fantastic stunts, and one of the greatest miniature explosions ever, this is the best pre-credits scene of the 1980s.
That's Octopussy. It's one fake mustache away from being a complete disaster, but somehow it pulls everything off and ends up sitting pretty.
Lee Pfeiffer: I'm pretty much out there on my own with this, but Octopussy has always been my favorite Roger Moore Bond film. The conventional wisdom among fans is that The Spy Who Loved Me is generally regarded as his best, and while I do love that film, Octopussy has an off-beat, more exotic quality probably because it combines the India locations with major set pieces behind the Iron Curtain. It's a bizarre, audacious premise but they pull it off well.
Coate: Can you describe what it was like seeing Octopussy for the first time?
Chowdhury: My journey to Octopussy was particularly memorable. My cousin, Raj Singh, had visited the set of the film in 1982 prior to him starring as Zalim Singh, the adolescent Maharajá of Pankot in Indiana Jones and The Temple of Doom. Raj had told me about the Udaipur setting he had seen recreated. As a 12-year-old Englishman of Indian extraction, I was intrigued by this.
Early in 1983, my parents were selling their home and a prospective purchaser was a costumier on the film. We lived 20 minutes from Pinewood Studios in North West London and I was regaled with tales of the circus ending of the film. Heck, this was pre-internet 007 gold!
On 6th June 1983, I watched the ITV broadcast of the Royal Premiere of the film and the aforementioned James Bond: The First 21 Years, the star-and-President studded celebration of 007. Together with an embryonic collection of magazine cuttings, by the time the film wended its way to the less expensive suburban cinemas, I was fizzing like Alka Seltzer in a flute of Bollinger.
On what must have been a Saturday afternoon in early August 1983, I queued with my entire family — with many other entire families — round the block of the Harrow Granada cinema. No different from now, the eventual viewing of a Bond film at the cinema is the end of a long, anticipated, clue-studded wait. Seeing Octopussy was the tip of the tentacle of my enjoyment. And enjoy it I did, leaving the cinema on an all-time high. Octopussy is a tight, considered Cold War-themed thriller wrapped in a sun-never-sets-on-Empire fantasy. Roger Moore embodied Cool Britannia before the term had been invented. Arguably, it is the most iconic of the Eighties Bond films with the Acrostar pre-title sequence becoming the memorable set-piece of the movie.
Christie: Back in the eighties, there was a real sense that Octopussy marked a determined attempt by the Bond production team to reassert the Cold War roots of the series — arguably even more so than had been the case in For Your Eyes Only. I first saw the movie midway through the decade on VHS, and was rather struck at the time by the way that there seemed to be more of an effort to play down the more fantastical elements that had become common to the series, putting greater emphasis on dialogue, character development and plot dynamics. Scenes like the tense backgammon game between Bond and Kamal Khan may well have seemed out of place in some other movies in the cycle, but here they seemed perfectly pitched given the rather more stately pace of the narrative. Yes, naturally there are elements of exotic travelogue, the obligatory chase sequences, cutting-edge Q-Branch gadgets, and all of the expected fight scenes remain present and correct. But this really felt like a darker, more mature Bond movie that was consciously working to downplay the increasing level of heightened technological fantasy and knowing whimsy that had manifested itself from the mid-seventies onwards, instead embracing the grittier strain of realism evident in John Glen's directorial debut For Your Eyes Only and continuing along the same vein.
Cork: I saw Octopussy in New York City at a critics screening at a theater on Times Square. I was staying with a film critic, Tom Sullivan, for whom I had interned years earlier. I attended with him. The crowd loved it. I was scheduled to meet a girl who was in the same program in college with me after the screening. I had enjoyed the film so much that I figured out a way to sneak her in for the second critics screening a half an hour later.
Pfeiffer: I saw the film at the Loew's State Theatre in Times Square at an advanced critics screening. I liked it immediately. I had mixed opinions about the previous Bond film, For Your Eyes Only, though I have warmed to it over the years. I felt that while it was a major improvement over the slapstick of Moonraker, it was still too silly in parts. I thought that the balance of humor and thrills in Octopussy was exactly right… though I still cringe at the scene in which Bond makes that Tarzan yell while swinging from a vine. The plot is complex…in fact, it's too complex and I still find it hard to figure out all the intrigue about the egg. Someone tried to explain it to me once and midway through their explanation, they determined that even they didn't quite understand it. But it's a lively, fun film with Moore in top form. It also has a very good title theme song and a marvelous John Barry score. The script is witty even when it's confusing and it's very well cast.
Coate: In what way was Louis Jourdan's Kamal Khan a memorable villain?
Chowdhury: That professional Frenchman Louis Jourdan was cast as the exiled Afghan Prince Kamal Khan says a lot of about the film industry of the time. Try getting away with that now! Known India-phile, George MacDonald Fraser had originally envisaged a more typical subcontinental buccaneer-type with flowing robes and a black turban. As played by Jourdan, he matched Roger Moore for urbane suaveness and his Hollywood background gave the film an elevated air of class. He has a number of classic scenes including a backgammon duel where he is ingeniously outwitted by Bond — he hisses the Fleming line, "Spend the money quickly, Mr. Bond" — and the dinner at the Monsoon Palace where he devours a sheep's eye to the audiences' and Bond's obvious disgust.
Christie: Kamal Khan was a slightly problematic antagonist, in the sense that while the late Louis Jourdan was undeniably an actor with abundant charm and sophistication, he seems to be overshadowed at every turn by Steven Berkoff's snarling, posturing Soviet zealot General Orlov — nominally the secondary villain of the movie. It doesn't help that Orlov's aims are so much more tangible in nature: the collapse of the Iron Curtain and the expansion of the USSR's military influence into Central and Western Europe, thus tipping the balance of the Cold War in favor of totalitarianism. Khan may well be the shadowy figure behind the scenes whose schemes are helping to aid the general's illicit objectives, but the convoluted nature of the bait-and-switch plot concerning the smuggling of priceless Russian art treasures into the West (with the originals being painstakingly duplicated and returned to Moscow) seems oddly genteel compared to the nuclear warhead-triggering intrigues employed by Orlov. While the detailed expository scene at the beginning of the film makes it clear that Orlov's reckless actions are not sanctioned by the Soviet leadership, throughout the film the threat posed by the character seems so much more immediate than that of the film's comparatively sedate central adversary. In this sense, of course, Khan seems like a natural progression of the more grounded Bond villain heralded by Julian Glover's charismatic, manipulative Aristotle Kristatos in For Your Eyes Only, in that he was willing to use Cold War geopolitics not for ideological ends (as Orlov intends to), but rather because of the personal benefit he could obtain from playing both sides against each other. This was a theme to which screenwriters Richard Maibaum and Michael G. Wilson would return in A View to a Kill, and most especially The Living Daylights, later in the decade.
Cork: Louis Jourdan wins the prize for playing the most unctuous Bond villain. He had tragically lost a son to a drug overdose in 1981. He had all but retired by that point, doing occasional TV appearances, but his friends urged him to dive back into work as a form of therapy. He had played a villain in Swamp Thing, which everyone thought was a disaster, but Cubby Broccoli was a friend and he decided to cast Jourdan. Jourdan had memorably played a villain in the Doris Day film Julie back in the mid-50s, which coincidentally ends with a deadly battle on a plane in flight. Jourdan was a lot of fun to watch. Some of the cast and crew described him as "prickly," always wanting to go over his lines, adjusting a word here or there, but I think that meticulousness shows in his performance. Unfortunately, his character is ostensibly working for Octopussy, and he has multiple scenes where he is seen kowtowing to her. This does little to create a character that we fear or respect. I wish he had a great moment of villainy, some scene that celebrated the character's dark heart in a particularly chilling moment. Nonetheless, the way he says the name, "Octopussy" is just so delightful. He's a great actor.
The real villain of the film is General Orlov, played masterfully by Steven Berkoff. He seems to channel a bit of George C. Scott from Dr. Strangelove, but he makes every scene he's in leap off the screen. The war room scene where he perfectly articulates the Reagan-era fear of a conventional invasion of West Germany is appropriately chilling. His attempt to force NATO to unilaterally remove nuclear weapons from Europe is both believable and brilliant. When Bond confronts Orlov about the consequences of a nuclear explosion on a U.S. military base, he points out that NATO will certainly retaliate. Berkoff plays his line perfectly. "Against whom?" he asks. He is so good that his scenes lift up the performances of everyone around him. Orlov is a great character, wonderfully written, played to the hilt. I wish he had lasted until the end of the film rather than foolishly and needlessly getting shot at the East German border.
Pfeiffer: While Khan isn't a larger-than-life Bond villain, he fits the bill suitably. He's dapper, witty, debonair, and proves to be a good match for Bond. Supposedly Jourdan felt out of place on the set. He was from the old world studio system and had never made anything like a Bond film previously. Word is that he found the entire experience to be somewhat bizarre compared to all those films he had shot on MGM sound stages, but he comes through admirably. He's especially good in the requisite scenes in which he banters politely with Bond, even when he describes how he intends to give him a mind-killing truth serum.