Displaying items by tag: Blade Runner: The Final Cut 4K
Monday, 26 June 2017 18:08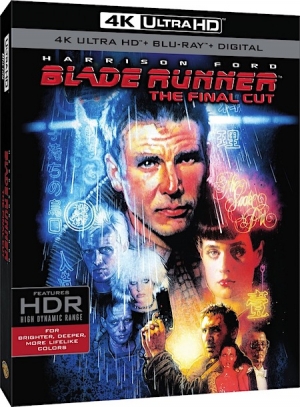 All right, we've got big news for you today. We've been saying this was coming for quite a while now here at The Bits, given that this is the film's 35th anniversary year and that its long-awaited sequel was coming soon to theaters, but Warner Bros Home Entertainment has finally made it official: Ridley Scott's Blade Runner: The Final Cut is coming to the 4K Ultra HD format on 9/5.
The Ultra HD release will include the previous Blu-ray edition (you can read our epic and in-depth review of that package here) in addition to the 4K disc, with its 7+ hours of bonus features (we're waiting to see the exact disc configuration to determine if the alternate cuts will be included or if it's just The Final Cut with extras), as well as a digital copy. The audio will be Dolby Atmos. There's no word whether Dolby Vision HDR is included or not yet (there was no mention of it in the press release). The package will sell for an SRP of $44.95. [Read on here…]
Wednesday, 07 June 2017 15:30
Yes, it appears to be true: Disney appears to be quietly preparing to add their support for the 4K Ultra HD Blu-ray format before the end of 2017. We have a few reasons to suspect this now, based on information from our sources, some of which we can talk about and some that we can't. But we'll get to what we can talk about in a moment.
First, though, our own Russell Hammond has just updated our Release Dates & Artwork section with all the latest Blu-ray, DVD, and 4K Ultra HD cover artwork and Amazon.com pre-order links. As always, whenever you order literally anything from Amazon after clicking through to them from any of our links on the site, you're helping to support our work here at The Bits and we greatly appreciate it. I makes a real difference to our work, so thank you for supporting us in this way.
Now then, back to Disney; there are a number of reasons why we now suspect the studio is finally preparing to support the 4K Ultra HD Blu-ray format. [Read on here…]
Monday, 15 May 2017 19:06
Afternoon, folks. We're going to get you caught up on some recent release news today and we also have a preview of some interesting 4K Ultra HD titles our industry and retail sources suggest are coming before the end of the year.
But first, I want to apologize for the lack of posts late last week. On Tuesday morning, I came down with the flu. It pretty much put me out of action from Wednesday night through Friday. Seriously, I had the whole fever and body aches routine going for a good 36 hours – no fun. Moral of the story is: Get your flu shots, kids. There's a bad one going around. In any case, thanks for your patience while I get back up to speed.
In announcement news today, Sony Pictures Home Entertainment has set Daniel Espinosa's recent sci-fi thriller Life for release on 6/20 on Blu-ray, DVD, and 4K Ultra HD. The Digital release is expected on 6/2. The extras on all versions will include deleted scenes, unseen Astronaut Diaries, and 3 featurettes (Claustrophobic Terror: Creating a Thriller in Space, Life: In Zero G, and Creating Life: The Art and Reality of Calvin). No word yet on the 4K SKU's audio or HDR. [Read on here…]