Displaying items by tag: Blade Runner 35th anniversary
Monday, 26 June 2017 18:08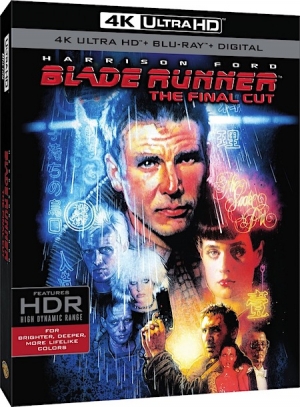 All right, we've got big news for you today. We've been saying this was coming for quite a while now here at The Bits, given that this is the film's 35th anniversary year and that its long-awaited sequel was coming soon to theaters, but Warner Bros Home Entertainment has finally made it official: Ridley Scott's Blade Runner: The Final Cut is coming to the 4K Ultra HD format on 9/5.
The Ultra HD release will include the previous Blu-ray edition (you can read our epic and in-depth review of that package here) in addition to the 4K disc, with its 7+ hours of bonus features (we're waiting to see the exact disc configuration to determine if the alternate cuts will be included or if it's just The Final Cut with extras), as well as a digital copy. The audio will be Dolby Atmos. There's no word whether Dolby Vision HDR is included or not yet (there was no mention of it in the press release). The package will sell for an SRP of $44.95. [Read on here…]
Wednesday, 21 June 2017 16:24
To kick things off today here at The Bits, we start with some daily site business: Tim has turned in his thoughts on Shout! Factory's new Blu-ray release of Cheech and Chong's Next Movie. It's certainly worth a look if you're a fan of the film.
Also here at The Bits today, we've got the weekly update of the Release Dates & Artwork section, featuring all the latest Blu-ray, DVD, and 4K Ultra HD cover artwork and Amazon.com pre-order links. As always, whenever you order literally anything from Amazon after clicking through any one of our links, you're helping to support our work here at the site and we really do appreciate it.
One last reminder: Be sure to follow Bits editor Bill Hunt (aka, yours truly) on Twitter and Facebook if you're plugged into social media. I'm trying to be a little more active there, as it's often a better way to communicate with you guys than e-mail. Social media is also usually the first place I share new BD/4K reviews and breaking industry news before it gets written up into a Bits post. Plus, you'll get my observations on other areas of interest. Hope to see you there! [Read on here…]