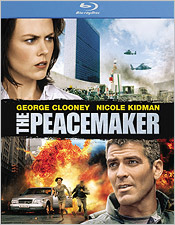 Director
Mimi Leder
Release Date(s)
1997 (September 21, 2010)
Studio(s)
DreamWorks (Paramount)
Film/Program Grade: B+
Video Grade: B-
Audio Grade: B
Extras Grade: D+
Review
Deep in the heart of the former Soviet Union, there's trouble afoot. A bitter Russian general named Kodoroff has decided to make a little extra spending cash by selling SS-18 nuclear warheads on the black market. He covers his tracks by detonating one of them which, of course, gets the world's attention – kinda tough to miss something like a 700 kiloton nuclear blast.
Enter Dr. Julia Kelly (Nicole Kidman), acting chair of the President's nuclear smuggling group. She's put in charge of the effort to figure out what went wrong. She's also put in charge of a rather unconventional military liaison – an Army Special Forces Colonel named Thomas Devoe (George Clooney). Devoe has his own ideas about what happened, and has the contacts and field experience to prove it. Soon the pair are flying across the globe, in a frantic race to prevent the warheads from falling into the wrong hands.
The Peacemaker was newly-formed DreamWorks SKG's first feature film, and one of their very first DVD releases as well. And although it wasn't exactly a huge hit in the U.S., to be fair, George Clooney wasn't yet a huge box office draw at the time either. Director Mimi Leder weighs in here with her first big screen effort, and it's a darned good thriller - well written, tightly-directed and deftly-paced. Clooney and Kidman are both good in their roles, although they both play it too cool at times - the chemistry between the two is a bit strained on occasion. That's a minor issue, though, because it's refreshing to see a professional, down-to-business male/female relationship on the big screen for a change. Given that this film was pre-24 and Jack Bauer, it was also refreshing to see movie bad guys with realistic motivations for a change.
This new Blu-ray edition includes a generally very solid 1080p transfer of the film. It's not quite up to the standards of the best new 4K catalog film transfers, so it may be a little older transfer (and/or one of lesser resolution) that's been digitally cleaned-up. Nevertheless, the quality is quite good on the whole, with nice color and contrast, detailed shadows and good fine image detail. Light grain is visible, but is never distracting, and DNR isn't an issue. Audio-wise, the disc offers a 5.1 DTS-HD MA lossless mix that really delivers, drawing you in the action with clear dialogue, natural staging and good bass.
Extras on the Blu-ray include nearly everything from the original DVD release, which isn't much. But it includes a behind-the-scenes featurette on the stunt work, outtake and blooper footage, and the film's theatrical trailer. The Easter egg cast and director interview clips are here too – a nice touch. The original DVD also included the film's teaser trailer, but that's been left off here. It's not a big loss, but if you care, plan accordingly.
If you've never seen it before, The Peacemaker is a very good little political/action thriller. Be sure to find it for a good sale price (luckily, Amazon.com has it for under $20 at the links above), but if you do, don't hesitate to give the film a try.
- Bill Hunt