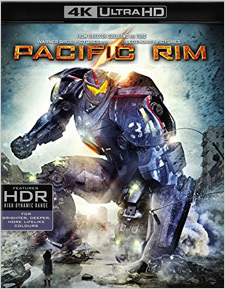 Director
Guillermo Del Toro
Release Date(s)
2013 (October 4, 2016)
Studio(s)
Legendary Pictures (Warner Bros.)
Film/Program Grade: A
Video Grade: A
Audio Grade: A
Extras Grade: C
Review
Guillermo del Toro's Pacific Rim is that rare, unexpected movie experience that took me completely by surprise. It's a campy, deliciously eccentric and tongue-in-cheek rollercoaster ride, with a thumping good score (by composer/Hans Zimmer protégé Ramin Djawadi) and spectacle galore. The film strikes a perfect balance in tone, taking itself just seriously enough that you buy into it, but not so much that it forgets to have fun. Pacific Rim delivers inventive action sequences, gorgeous visuals, plenty of laughs, and it's even character driven. This film has heart.
The story is deceptively simple: In the present day, a giant interdimensional rift suddenly opens up on the floor of the Pacific Ocean and begins disgorging giant monsters, appropriately called Kaiju. Seemingly bent on destroying Humanity, one city after another is devastated by their wrath. Conventional military power has little effect on the beasts, so the governments of the world develop a two-fold defense strategy. Step One: Construct huge mechanical war machines called Jeagers to slug it out with the creatures. Step Two: Build giant walls around the Pacific to keep the monsters out. The Jeagers are too much for a single pilot to handle, however, so they're controlled by a pair of operators whose minds are joined in a neural "drift" in which they function as one being. The Jeager effort is effective for a time, but eventually (the film's action takes place in the 2020s) they're destroyed faster than they can be built, so the strategy is abandoned in favor of more and bigger walls. But the head of the Jeager program, Stacker Pentecost (Idris Alba), knows that the Rift is only getting bigger and is unleashing larger and more frequent Kaiju – ultimately, the walls are going to fail too. So Pentecost gathers the last remaining Jeagers (replete with names like Gipsy Danger, Cherno Alpha, Crimson Typhoon, and Striker Eureka) and their pilots, including veteran Raleigh Becket (Charlie Hunnam) and rookie Mako Mori (Rinko Kikuchi), for one last gambit to close the Rift and defeat the Kaiju… or die trying.
Warner's Ultra HD Blu-ray release presents the film in 4K at the proper 1.85:1 theatrical aspect ratio, upscaled from the film's original 2K Digital Intermediate. It's worth noting that Pacific Rim was shot digitally using Red Epic Cameras. Given del Toro's eye-candy color palette choices and the outstanding cinematography by Guillermo Navarro, the film is absolutely ideal for High Dynamic Range. It makes a huge difference. Frankly, the film didn't look this good even in theaters. Shadows are incredibly deep and dark, yet retain texture. Bright highlights have real pop and sizzle. Virtually every frame bursts with vibrant, punchy color as well as more subtle, luminous hues. And the range of surface texturing is extraordinary – glossy metal, backlit and high-lit water, translucent and scratched helmet visors – all of it rendering lovely depth. Yet the image still retains an appropriately gritty and film-like appearance. This title really shows off the benefits of HDR in a big way.
Primary audio is included in English Dolby Atmos (7.1 Dolby TrueHD compatible). It's a reference quality audio mix, with a big wide soundstage, smooth panning, immersive surround play, and deep rumbling bass that kicks in often, especially appreciated whenever Kaiju bellow and roar. The height channels are used to wonderful effect all throughout the film, in everything from subtle rainfall to the most thunderous combat sounds. There's also 5.1 English Descriptive Audio, French 7.1 DTS-HD Master Audio, and 5.1 Dolby Digital in French (Quebec), Spanish, Castilian Spanish, German, Italian, Portuguese, Czech, Russian, Turkish, Polish (Voice Over), and Chinese, with optional subtitles in 23 different languages including English (for the Deaf and Hard of Hearing).
Unfortunately, Warner has included only the original movie Blu-ray in this package and not its BD bonus disc (nor the Blu-ray 3D version of the film). That's a shame, because it means that about half of the film's special features are missing. You do get an interesting and engaging audio commentary with Del Toro, who explains his thoughts on character, his process, the way he uses color, the way he presents information on screen, his thoughts on Kaiju and Mecha films, his approach in creating the creatures and more. I think people will really be surprised at just how carefully he's considered every detail here, while never losing sight of his characters. You also get 13 Focus Points featurettes on various aspects of the production – some 62 minutes worth in all, from pre-production to the score – all of it presented in full HD. You can choose to "play all" (by clicking on the shield symbol) or watch them individually. Sadly missing (from Disc Two of the original 2013 Blu-ray release, which we've reviewed here) are 4 deleted scenes, a blooper reel, 2 more featurettes (including The Digital Artistry of Pacific Rim and Drift Space), a gallery of video clips and still images called The Shatterdome, and finally The Director's Notebook. For the record, my position on 4K catalog titles like this is that the studio should always take care to include all the previous Blu-ray extras. When fans upgrade form Blu-ray to 4K, they absolutely want to retain all of the available bonus material – not risk losing some of them. The Blu-ray 3D disc should be here too. You do at least get a Digital HD copy code in the packaging, so that's something, but sadly not enough.
I walked out of Pacific Rim in the theater thrilled and somewhat in awe and disbelief at what I'd just experienced. This film came out of left field and is a total blast. Some of you may have passed on it previously, but I implore you to give it a chance. I think Pacific Rim is going to gain a huge cult audience on disc in years ahead. It sure as hell deserves to. Guillermo Del Toro has given us a gem. The damn thing is even dedicated to the memory of Ray Harryhausen and Ishirō Honda, who together pioneered this genre. How can you not love a film like that? It's just a real shame that Warner opted to leave the Blu-ray bonus disc out of this package though. With all of the film's special features, this 4K Ultra HD release would be highly recommended. As it is, make sure you keep your previous Blu-ray editions and try to pick up the 4K release on sale.
- Bill Hunt
Tags
2013
,
4K
,
action
,
alien invasion
,
B-movie
,
Bill Hunt
,
Blu-ray Disc
,
Charlie Hunnam
,
combat
,
Dolby Atmos
,
Drift
,
giant monsters
,
giant robot
,
Gipsy Danger
,
Guillermo del Toro
,
HDR
,
High Dynamic Range
,
Idris Elba
,
Jaeger
,
Japanese
,
Kaiju
,
Pacific Rim
,
Ramin Djawadi
,
review
,
Rinko Kikuchi
,
Ron Perlman
,
science fiction
,
The Digital Bits
,
UHD Premium
,
Ultra HD Blu-ray
,
Warner Bros