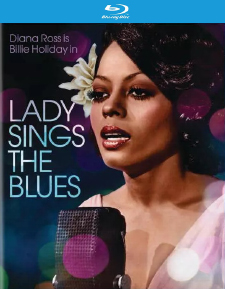 Director
Sidney J. Furie
Release Date(s)
1972 (February 23, 2021)
Studio(s)
Motown Productions/Paramount Pictures
Film/Program Grade: B
Video Grade: A-
Audio Grade: B+
Extras Grade: B
Review
Billie Holiday was an American jazz singer whose career spanned 26 years. Nicknamed "Lady Day," she had an innovative influence on jazz music and pop singing. Jazz instrumentalists inspired the novel phrasing and tempo that set her singing style apart. Frank Sinatra once said he learned a lot about phrasing and emotion from watching Holiday perform. Holiday also had a hard life, which provides the dramatic thread of Lady Sings the Blues.
The script follows the Hollywood bio-pic formula: a talented individual rises from a troubled background to the top despite suffering emotional and/or physical traumas. Lady Sings the Blues is a glossy romantic-musical-bio of Holiday that doesn't try to whitewash its protagonist's flaws.
The opening shows Billie (Diana Ross) getting busted for heroin possession. Looking haggard and limp as a rag doll, she's strong-armed into a padded cell where she writhes on the floor and screams like a suffering animal. The film flashes back to her impoverished youth doing odd jobs in a whorehouse, being raped by a drunk, and becoming a prostitute herself. It then traces the rocky progress of her musical career, her battles with alcoholism and heroin addiction, and her romance with gambler Louis McKay (Billy Dee Williams).
As Billie, Diana Ross doesn't attempt a carbon copy version of the performer. With a singing delivery and a body type very different from Holiday's, she combines her own style with touches of Holiday, most visibly in the later parts of the film. This was Ross' first movie role and she handles the dramatic scenes effectively. Tailor-made for her, the part gives her plenty of opportunities to sing and these scenes are lovingly filmed by cinematographer John A. Alonzo. Ross gets to perform many songs of the period and several that became identified with Billie Holiday.
Williams is depicted as a steadying influence on Billie who stands by her through thick and thin, offering her the emotional support to fight her addictions and focus on her career. In actuality, McKay was physically abusive and no charmer as he's portrayed in the film. Unlike Williams, McKay didn't have matinee idol looks, so it's clear his role was intended as the typical romantic lead.
Richard Pryor has a supporting role as Piano Man, a pal of Billie's who is an enabler of her drug habit. Many of his scenes with Ross are improvised and look it. There's an amateurish quality to these moments that undermines the dramatic flow, and they go on far too long, well after the dramatic points have been made. Pryor mumbles his way through the role and has far too much screen time in a film that would have benefited from losing 10 or 15 minutes. At 2 hours, 23 minutes, it overstays its welcome.
Period details are striking. A street on Paramount's backlot approximates 1930s Harlem while Bob Mackie's costumes, especially for Diana Ross, suggest the time period. Vintage cars and buses add the proper flavor of the times. Still, we never lose sight of the fact that we're watching Diana Ross rather than Billie Holiday. It is clear that the film was designed as a showcase for Ross rather than a spot-on portrayal of Holiday. In contrast, a few years before, Audra McDonald starred in Lady Day at Emerson's Bar & Grill on Broadway and gave an uncanny representation of the singer during the time she was barred from cabaret work in New York.
The film takes many creative liberties for the purposes of consolidation and clarity and has many inaccuracies, but it hits the highs and lows of Holiday's life. Pace is problematic, with some scenes that are too long and a number of static moments that drag. A recent film, The United States vs. Billie Holiday, goes into greater detail about the singer's legal troubles with the government.
Featuring 1080p resolution, Lady Sings the Blues is presented on Blu-ray by Paramount Pictures in the widescreen aspect ratio of 2.39:1. It looks good with nicely saturated colors, clear details, and mostly sharp images. A few scenes have a fuzzy look, which contrasts with the otherwise sharp picture. Darker scenes, such as Holiday's heroin high with Piano Man, are not as well defined. There is very good detail in Diana Ross's period dresses, Williams' shirts and suits, and Ross' unkempt hair in the padded cell scene. The outdoor New York City scenes were shot on the studio's back lot, which gives 1930s Harlem a retro romanticized appearance. The Carnegie Hall sequence features a low, close-to-the-audience stage, which is not at all like Carnegie Hall's raised stage, but this set-up allows the camera to take in both Billie singing and a portion of the audience. A number of scenes are presented in montage with stills in either black and white (opening credits) or sepia to show the passage of time. These are effective in keeping an overly long movie from being even longer.
An English 5.1 Dolby TrueHD soundtrack has been provided, with optional subtitles in English, English SDH, and French. The opening jazz-like score by Michel Legrand is reminiscent of crime drama rather than romantic drama and underscores the arrest of Billie in montage that opens the movie. There isn't a lot of "movement" between channels, which is disappointing since so many scenes depend on music. Sound mixing is good overall, with Billie's singing sometimes blending with ambient audience noise and general club clatter. Legrand's score is subdued, allowing songs to take the spotlight. Ross performs I Cried for You, What a Little Moonlight Can Do, All of Me, You've Changed, Ain't Nobody's Business, Don't Explain, and Our Love Is Here to Stay, as well as Holiday's signature songs God Bless the Child and Strange Fruit, the latter a controversial song about the lynching of black men. The improvisation encouraged by director Furie doesn't work to the film's advantage and sounds inauthentic—more like an acting class exercise than a real scene of two people high on heroin. One of the most memorable sounds is Billie in her cell screaming madly because of her need for heroin. That one moment crystallizes her deep dependency.
Bonus materials include an audio commentary, the featurette Behind the Blues: Lady Sings the Blues, and seven deleted scenes.
Audio Commentary – Executive producer Berry Gordy, director Sidney J. Furie, and artist manager Shelly Berger share this commentary. They note that many actors in the film, such as Isabel Sanford and Virginia Capers, went on to appear in TV sitcoms. Pryor went on to a career in movies. Because he was originally signed for one day, Pryor was billed only as "Piano Man." His role was eventually expanded. The role of Louis McKay came down to Billy Dee Williams and Paul Winfield (Sounder). Though Williams' reading and screen test were inferior to Winfield's, he got the job because of his looks and because there was "magic between Diana and Billy." In the Carnegie Hall sequence, hundreds of dress extras were hired at $25 a day. Though Ross was able to do a good imitation of Billie Holiday, director Furie had to "pull her back" so she'd be more herself. Berry Gordy arranged a concert tour with Diana Ross that coincided with the film's opening in Europe and Japan to help publicize the film. In addition, Motown released a double pocket soundtrack album. The film received five Oscar nominations, including one for Best Actress for Diana Ross, who lost to Liza Minnelli for Cabaret.
Behind the Blues: Lady Sings the Blues – In this 23-minute featurette, Diana Ross explains that Berry Gordy put together the project to be her debut as a film actor. With the success of Motown, Gordy decided to move into the movie business. Director Sidney J. Furie felt that Diana Ross should play Billie Holiday. Ross regarded it as a big challenge. Many felt she wasn't up to the dramatic requirements of the role. She researched Holiday but didn't want to copy her. The film is described as a "three in one"—a biopic about Billie Holiday, a musical, and a story about the struggles of a woman. The movie "hit the milestones in the order in which they happened." Furie allowed Ross to do scenes over and over, but Gordy was the architect of how Ross' performance was shaped. Billy Dee Williams' audition was awful, but his chemistry with Ross was excellent. Known previously as a TV actor, he became a leading man for every black woman in America with Lady Sings the Blues. Bob Mackie's costumes were based on period fashions. A lot of improvising was done on the set. Most black films of the 1970s were action based and male oriented. Lady Sings the Blues was a romance from a black point of view.
Deleted Scenes – Seven deleted scenes are included: Billie's Party, Billie and Louis Come Home, Billie and Harry, Louis Threatens Harry, Just Get Some Sleep, Billie Visits Mama, and Billie Goes to Jail.
Lady Sings the Blues transforms Holiday's messy, masochistic history into a glossy romance about a troubled, needy woman and the patient, steady, sensitive guy who tries but can't stop her path to self-destruction. As a Diana Ross movie, it's entertaining and shows not only Ross' musical talent but her dramatic chops as well. As an authentic story of Billie Holiday, it falls short, depending on clichés and omissions to keep the focus on the movie's romantic emphasis.
- Dennis Seuling
Tags
1972
,
Argyle Nelson
,
Berry Gordy
,
Billie Holiday
,
Billy Dee Williams
,
biographical
,
Blu-ray
,
Blu-ray Disc
,
Bob Mackie
,
Brad Dexter
,
Chris Clark
,
Dennis Seuling
,
Diana Ross
,
drama
,
Gil Askey
,
Harry Caesar
,
Isabel Sanford
,
James Callahan
,
James S White
,
Jay Weston
,
jazz
,
jazz music
,
Jester Hairston
,
John A Alonzo
,
Lady Sings the Blues
,
Lynn Hamilton
,
Michel Legrand
,
Milton Selzer
,
Motown Productions
,
music
,
musical
,
Paramount
,
Paramount Pictures
,
Paramount Pictures Home Entertainment
,
Paul Hampton
,
Paulene Myers
,
review
,
Richard Pryor
,
Robert Gordy
,
romance
,
Scatman Crothers
,
Shelly Berger
,
Sid Melton
,
Sidney J Furie
,
Suzanne de Passe
,
Terence McCloy
,
The Digital Bits
,
Victor Morosco
,
Virginia Capers
,
William Dufty
,
Yvonne Fair