Displaying items by tag: Rad BD
Wednesday, 16 June 2021 18:07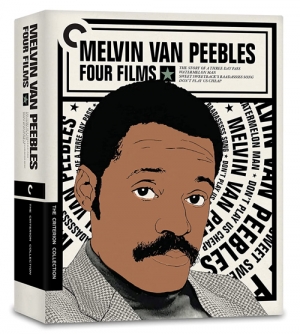 We've got a new disc review today from Tim—actually a pair of reviews, but it's essentially the same title in two different packaging SKUs—featuring his thoughts on John McTiernan's Last Action Hero (1993) in 4K Ultra HD and 4K UHD Steelbook from Sony Pictures Home Entertainment. Sounds like it's a good release, so do give it a look.
Now then, the big news today is that Criterion has officially announced their September slate, which is set to include Neil Jordan's Mona Lisa (Blu-ray and DVD – Spine #107) on 9/14, Gina-Prince-Bythewood's Love & Basketball (Blu-ray and DVD – Spine #1097) and Johnnie To's Throw Down (Blu-ray and DVD – Spine #1092) on 9/21, and Luchino Visconti's The Damned (Blu-ray and DVD – Spine #1098) and Melvin Van Peebles: Four Films (Blu-ray only, includes The Story of a Three Day Pass – Spine #1093, Watermelon Man – Spine #1094, Sweet Sweetback's Baadasssss Song – Spine #1095, and Don't Play Us Cheap – Spine #1096) on 9/28. You can see the cover artwork for Melvin Van Peebles: Four Films at left and also below the break. Click here for all the A/V and extras details on the Criterion website.
We've updated our Criterion Spines Project pages here on The Bits accordingly. [Read on here...]
Monday, 21 December 2020 16:52
All right, we've got just a quick update for you today with some great 4K Ultra HD announcement news.
First though, I wanted to let you all know that we're likely going to be posting fewer news updates over the next week or so, given the forthcoming Christmas holiday. Announcements are sort of ramping down, so while we'll pop in as needed, it's quite likely that there won't be a lot of news to report this week.
Nevertheless, we will check in with new disc reviews now and again over the next week. So there should be new content going up over the holiday.
We do have a great piece of 4K Ultra HD announcement news for you today, however... [Read on here...]
Wednesday, 01 April 2020 18:17
Well, last night I finished the Star Wars—all 11 films in 4K. Pretty good, I have to say. I guess the thing I was most surprised by, now that we know it's a larger narrative—and that some of the films are admittedly better than others—is that it all works together so well. The larger narrative does fit together pretty nicely. Admittedly, the sequel films feel a little more distant from the original trilogy than the prequels do, but visually and tonally they're actually closer in spirit. Anyway, it's an interesting experience and one I'm glad I waited for 4K to have. The films have never looked or sounded better, imperfect though some of them are.
All right, let's have a news post, shall we?
First up here today, Tim has just turned in a review of Richard Stanley's Color Out of Space on 4K Ultra HD from RLJ Entertainment. It's an interesting film (and a solid disc) that's worth a look. You'll find that here. [Read on here...]