Displaying items by tag: I Kill Giants
Monday, 30 April 2018 16:04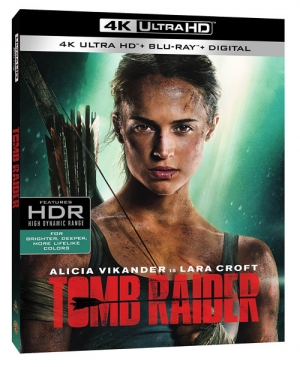 All right, the big news today is that Warner Bros. Home Entertainment has set Tomb Raider (2018) for release on Blu-ray, Blu-ray 3D, DVD, and 4K Ultra HD on 6/12, with the Digital release expected on 5/29. The 4K disc will feature both Dolby Vision HDR and Dolby Atmos audio, and the film was finished as a 4K Digital Intermediate. Extras will include 4 featurettes (Tomb Raider: Uncovered, Croft Training, Breaking Down the Rapids, and Lara Croft: Evolution of an Icon). We've updated the 4K Ultra HD Release List here at The Bits accordingly. You can see the cover artwork to the left and also below. We'll add the Blu-ray 3D cover artwork as soon as we have it.
By the way, we've also updated the 4K Ultra HD Release List with new information from retail and industry sources, which suggest that Avengers: Infinity War will be an August release. Also, Disney MAY be planning to release Avengers and Avengers: Age of Ultron on 4K with it. Paramount is releasing Teenage Mutant Ninja Turtles on 7/17. Universal is working on Deer Hunter for July. Warner appears to be prepping The Matrix Reloaded and The Matrix Revolutions to follow the original film to 4K late this year. And finally, Sony may be prepping Panic Room for release on BD and 4K this year. As always, we caution you to consider all of this information Rumor Mill-worthy until the studios make official announcements.
One last 4K note: We expect to have our hands on Paramount's Braveheart and Gladiator, along with Warner's The Matrix, on 4K Ultra HD Blu-ray by the end of the week or early next. Rest assured, we'll get in-depth reviews up here at The Bits as soon as they come in. [Read on here...]
Wednesday, 21 February 2018 15:27
We've got a little bit more release news for you guys today…
First up, Lionsgate is releasing The Commuter on Blu-ray, DVD, and 4K Ultra HD on 4/17. The film stars Lia, Neeson and Vera Farmiga. You can pre-order it here.
Arrow Academy is bringing Bruno Lawrence's Smash Palace to Blu-ray on 5/29.
Image Entertainment is releasing I Kill Giants on Blu-ray and DVD on 5/22. The film stars Zoe Saldana and Imogen Poots.
Warner Home Video is releasing Paddington 2 on Blu-ray and DVD on 4/24. No word yet of a 4K Ultra HD release, though it appears one if coming internationally. [Read on here...]