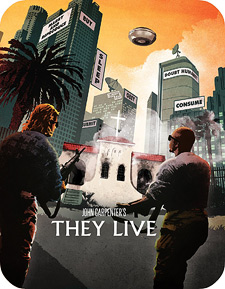 Director
John Carpenter
Release Date(s)
1988 (August 1, 2017)
Studio(s)
Universal Pictures (Shout!/Scream Factory)
Film/Program Grade: A-
Video Grade: A-
Audio Grade: A
Extras Grade: A
Review
[Editor's Note: The film portions of this review are by Adam Jahnke from his 2012 Blu-ray review. Additional Steelbook comments by Tim Salmons.]
There are a lot of grey areas where horror intersects with other genres. Is Invasion of the Body Snatchers horror or science fiction? Is The Silence of the Lambs horror or suspense? At the end of the day, it doesn't really matter. Horror is subjective and if something scares or disturbs you, feel free to classify it as horror.
Truth be told, I've never really considered They Live to be a horror movie. To me, it's a science fiction conspiracy thriller with action elements. But there are a lot of folks who do consider it to be a horror picture of sorts. Plus, it's directed by John Carpenter and now it's the fifth release from Scream Factory. All of this is more than enough to justify including it in Oktoberfest.
They Live posits a world not unlike our own where the divide between the haves and have-nots has become insurmountable. In this case, the haves are a race of pop-eyed aliens controlling mankind through subliminal messages in advertising and disposable pop culture. Like I said, a world not unlike our own. Roddy Piper stumbles upon an underground resistance that's created sunglasses that allow humans to see the aliens and subliminals for what they really are. Naturally, the discovery brings out the rowdy in Mr. Piper.
A number of critics and fans describe They Live as "ahead of its time". Actually, the movie is very much a product of its own time. It's a pointed commentary on yuppie consumerism in the Reagan era. If it's themes seem just as relevant today as they did in 1988, that's more of a comment on the world than the movie itself. Social commentary aside, They Live remains one of Carpenter's most enjoyable films with endlessly quotable dialogue and some wonderfully over-the-top action. Roddy Piper probably isn't going to be up for any Academy Awards any time soon but he acquits himself extremely well here. He's a likable, charismatic everyman and I've always thought it kind of a shame that no other director has tapped into his potential as an actor since.
Universal has delivered a few different DVD editions of They Live, always treating it like an afterthought. Scream Factory finally nails it, delivering the Collector's Edition fans have always wanted. The HD transfer is an improvement on previous versions, if not exactly revelatory. It's certainly the best I've ever seen this movie look. Audio options include a great new 5.1 DTS-HD Master Audio remix and the original 2.0 version. The 5.1 version is extremely well done, giving the soundtrack added oomph in all the right places.
Extras are kicked off with an audio commentary by John Carpenter and Roddy Piper. Carpenter's commentaries are almost always good but they seem to be even better when he's joined by someone like Kurt Russell (as on The Thing and Escape from New York) or Piper. The track is funny, informative and relaxed, everything a good commentary should be. The disc includes four new video featurettes, interviewing Carpenter, actors Meg Foster and Keith David, cinematographer Gary B. Kibbe, stunt coordinator Jeff Imada, and Carpenter's musical collaborator Alan Howarth. The Meg Foster interview is the shortest at right around 5 minutes but they're all worth checking out. You also get the original EPK Making-Of, some fun footage from the movie's fake commercials, four TV spots, a still gallery and trailers for this, Halloween II and Halloween III.
For Scream Factory's 5th anniversary, the company decided to celebrate by re-releasing three of their previous John Carpenter Blu-ray titles: Escape from New York, The Fog, and They Live. None of the content on these releases has changed, including both the A/V quality and the extra material, but they're now housed in beautiful Steelbook packaging. They're also limited to 10,000 copies each, so get them while you can.
Every Scream Factory release so far has been first-rate but They Live might just be their finest effort to date. The movie only seems to get better with age. This Blu-ray (and Steelbook release) should ensure that Carpenter's cult favorite continues to be discovered by appreciative audiences for a long, long time.
- Dr. Adam Jahnke (with Tim Salmons)
Tags
1988
,
action
,
Adam Jahnke
,
Alan Howarth
,
Blu-ray
,
Blu-ray Disc
,
Collector's Edition
,
David Keith
,
fantasy
,
horror
,
John Carpenter
,
Meg Foster
,
review
,
Roddy Piper
,
Rowdy Roddy Piper
,
sci-fi
,
science fiction
,
Scream Factory
,
Shout! Factory
,
Steelbook
,
The Digital Bits
,
They Live
,
Tim Salmons
,
Universal Pictures