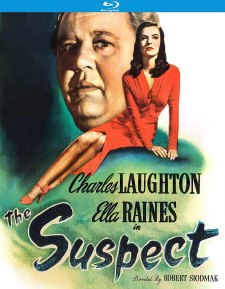 Director
Robert Siodmak
Release Date(s)
1944 (February 9, 2021)
Studio(s)
Universal Pictures (Kino Lorber Studio Classics)
Film/Program Grade: A
Video Grade: A-
Audio Grade: B
Extras Grade: B
Review
Charles Laughton has been known to be overly flamboyant in some of his screen portrayals (see our review of The Strange Door), but in The Suspect he underplays, making his performance as a turn-of-the-last-century London tobacconist both credible and sympathetic.
Philip Marshall (Laughton), on the surface, is the ideal businessman and the epitome of cordiality, always ready to greet a neighbor or carry a package for an elderly woman. But his wife, Cora (Rosalind Ivan), is a terror who has made home life so intolerable that their adult son, John (Dean Harens), has decided to leave. Philip sadly agrees that it will be healthier for John to be away than to remain in a perennially acrimonious atmosphere. Once he leaves, Philip moves into John's former room, telling Cora there's no longer any reason to pretend to have a solid marriage. Cora is infuriated, but accepts the arrangement… for a while.
An unemployed and increasingly desperate secretary, Mary Gray (Ella Raines), approaches Philip for a job. He sympathizes with her and manages to get her a position with a different employer. A relationship develops. Philip takes Mary to dinners and shows, always keeping these pleasant excursions discreet. Cora confronts Philip and he demands a divorce. She adamantly refuses and insists he break off all ties with Mary. He complies, hoping it will mean a better relationship between husband and wife. But things don't improve.
When Cora dies from a fall down a flight of stairs, Inspector Huxley (Stanley Ridges) finds out about Mary and suspects Philip of murder but has no proof. Furthermore, Philip has married Mary and she cannot be compelled to testify against her husband. Philip seems headed for wedded bliss until wife-beating spendthrift neighbor Gilbert Simmons (Henry Daniell) gets wind of the inspector's suspicions and threatens blackmail.
Director Robert Siodmak, known for his film noir thrillers, incorporates many noir elements into The Suspect, including deep, atmospheric shadows, a plot revolving around murder and deception, and a determined cop. But the period setting and lack of a femme fatale place the film more squarely in the category of suspense thriller.
Laughton's Phillip is probably the most sympathetic murderer in movies. His gentle scenes with an office boy (Raymond Severn) who has pilfered small amounts of money (to be replaced on payday), his sympathy for Mary, and his cordiality toward a neighbor who, he suspects, is being abused by her husband convince us that Philip is inherently decent and kind. He has the most miserable wife imaginable, yet tries to make the best of a bad situation. When he derives some pleasure from Mary's company, we feel good for him, confident that he deserves it and his intentions are strictly honorable.
It may seem odd that Raines' pretty Mary is attracted to Laughton's obviously older, physically unattractive Philip. Yet that makes their growing friendship charming. Mary is alone in a big city, Philip is lonely and unhappy. They are balm for one another.
The script by Bertram Millhauser is taut and Siodmak's direction brisk. The film moves swiftly thanks to a lean screenplay. Supporting characters are interesting and integrated intelligently into the story. A blackmailer generally is loathsome but Daniell's Simmons, a drunk and a wife abuser, is especially repellent.
Featuring 1080p resolution, the 85-minute, Region A Blu-ray release from Kino Lorber Studio Classics is presented in the aspect ratio of 1.37:1. Paul Ivano's photography is shadowy and atmospheric, especially when Inspector Huxley speculates on how Cora died and when Philip sees Mary crying in the park. The film was shot entirely on sets and on the Universal back lot, and the production design nicely recreates a residential street in 1902 London. Night scenes bring out sharp detail of cobblestones, gas lamps, and low-hanging fog.
The soundtrack is English 2.0 Mono DTS-High Definition Master Audio. Optional English SDH subtitles are available. Dialogue delivery is uniformly precise. Most of the actors are British, with stage experience. Laughton's Philip is soft-spoken and never raises his voice, even in arguments with Cora. This establishes him as even-tempered. Harens' obviously American accent is distracting, especially since nearly all of the other speaking parts involve native British actors. Music is used conservatively and never overshadows dialogue. It is most effective in stretches without dialogue, such as the aftermath of Cora's fall and the very last scene.
Bonus features include an audio commentary and several trailers.
Audio Commentary – Film historian Troy Howarth discusses whether The Suspect can be properly called a film noir. He cites examples from the film that would appear to qualify the film as a noir. Director Robert Siodmak establishes a community where nothing bad ever appears to happen. He likens the film to Hitchcock's Shadow of a Doubt. In both films, expectations give way to something darker. Both pictures deal with the theme of domestic strife tearing a family apart. Philip is a loving, devoted father, as opposed to Cora, a shrew of a wife and mother. Philip is non-violent, preferring to withdraw than confront. The film suggests the conflict of the old with the new. In her job interview with Phillip, for instance, Mary refers to her mastery of the "newfangled machine" known as the typewriter, but Philip is tied to handwritten correspondence and record keeping. The relationship between Philip and Mary starts out of pity but develops into something genuine. Extensive career overviews are provided for the principal actors. Laughton originally intended to go into business. He made his New York theater debut in 1931, Hollywood took notice, and his official movie debut was in The Old Dark House, directed by James Whale. Other 1930s films of his include Island of Lost Souls, The Private Lives of Henry VIII, and The Sign of the Cross. In the 1940s, Laughton appeared in undistinguished "paycheck movies." The Suspect is an exception. His most significant film of the 1950s is Witness for the Prosecution. His only film as director was 1955's The Night of the Hunter. Because of its poor popular and critical reception, Laughton never directed another. Director Robert Siodmak "brought a tremendous stylistic unity to everything he did." Siodmak is referred to as a cog in the Hollywood machine. He wasn't writing screenplays, and directed whatever he was assigned. He was competitive with brother Curt (The Wolf Man). The Suspect contains a lot of recycled music from other Universal pictures, by Frank Skinner, Hans J. Salter, and others. Skinner composed the main theme for Universal's Sherlock Holmes films. The Suspect is lightly scored, unlike the heavily scored 1940s Universal horror films.
Trailers – Five theatrical trailers are included: The Paradine Case, Witness for the Prosecution, The Spiral Staircase, Cry of the City, and So Evil My Love.
Perhaps because The Suspect is difficult to pigeonhole as a film noir, it has been overlooked over the years. It is well worth seeing, especially for Charles Laughton's excellent performance and Siodmak's fine direction. With a mostly British cast, the film is reminiscent of other period thrillers, such as The Lodger and Hangover Square. It takes us inside the home of a prominent, respected citizen to show that what outsiders may perceive as an ideal life is actually sad, rancorous, and miserable.
- Dennis Seuling
Tags
1944
,
Arthur Hilton
,
Arthur T Horman
,
Bertram Millhauser
,
black and white
,
black-and-white
,
Blu-ray
,
Blu-ray Disc
,
Charles Laughton
,
Clifford Brooke
,
Dean Harens
,
Dennis Seuling
,
Edwardian
,
Ella Raines
,
Eve Amber
,
film noir
,
Frank Skinner
,
Gerald Hamer
,
Henry Daniell
,
Islin Auster
,
James Ronald
,
Keith Hitchcock
,
Kino Lorber
,
Kino Lorber Studio Classics
,
London
,
Maude Eburne
,
Molly Lamont
,
Olaf Hytten
,
Paul Ivano
,
Raymond Severn
,
review
,
Robert Siodmak
,
Rosalind Ivan
,
Stanley Ridges
,
suspense
,
suspense thriller
,
The Digital Bits
,
The Suspect
,
The Suspect 1944
,
This Way Out
,
thriller
,
Troy Howarth
,
Universal Pictures