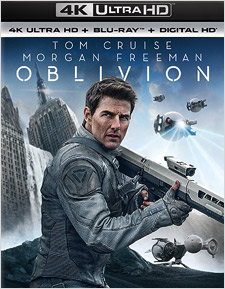 Director
Joseph Kosinski
Release Date(s)
2013 (August 9, 2016)
Studio(s)
Relativity Media (Universal)
Film/Program Grade: B-
Video Grade: B
Audio Grade: A+
Extras Grade: B-
Review
[Editor's Note: We've reviewed this film previously and at greater length on Blu-ray – click here to read that if you're interested.]
Written and directed by Joseph Kosinski (of Tron Legacy fame), Oblivion is one of the more fascinating and frustrating science fiction films in recent memory. Its story is seemingly simple: In the year 2017, aliens called "Scavs" invaded the Earth. They first destroyed the Moon, thereby causing unimaginable earthquakes and tsunamis that quickly wiped out most of human civilization, and then came down in force to take over what was left. Using nuclear weapons, humanity fought back and beat the Scavs off, unfortunately rendering the planet largely uninhabitable in the process. Now it's some 60 years later. Most of the human race has created a new home on Saturn's moon, Titan. Jack Harper (Tom Cruise) and his partner Vika (Andrea Riseborough) have been left behind to supervise great floating harvesters that are sucking up what's left of the Earth's oceans in order to generate fusion power on Titan. They're supervised by a Mission Controller up in Earth orbit, in a giant space station called the "Tet." But in just two weeks, Jack and Vika's mission will finally be over. They'll get to leave Earth behind and live happily ever after on Titan. Or so they (and we) think. The real story, of course, is far more complicated.
As any self-respecting science fiction fan knows, the difference between good sci-fi and bad is the actual science part. Another way to put this is to ask the following question: Is it so much to expect that the writers of modern science fiction films pick up a physics or astronomy textbook? Suffice it to say that there are key story points in this film that don't hold up to close scrutiny. That's especially frustrating, because Oblivion is one of the most exquisitely shot, designed, and scored films in recent memory. It looks beautiful and its sound effects are quite original. The film's musical score (by M83) is wonderful too. Even the casting and performances are of a surprisingly high quality. But all of this is in service of a plot that's fundamentally incoherent. If you're willing to go to such great lengths to design and create a stunning film, start by giving the same level of care to the story. (By which I don't mean just "making it cool.")
Oblivion was shot digitally using Red Epic and Sony Cinealta F65 cameras in native 4K resolution, but sadly it appears that VFX were rendered in 2K only and the final Digital Intermediate was completed in 2K. For Universal's Ultra HD Blu-ray release – part of their debut slate of titles on the format – that 2K DI was upscaled to 4K and a new HDR color timing pass was completed. Presented at the original 2.39:1 aspect ratio, the Ultra HD image is… well, a little bit underwhelming. It would almost seem as if, in the process of finishing the 2K DI, a digital noise reduction pass was done to give the final film a uniformly clean appearance. The result, when upscaled to 4K, is a surprising lack of very fine image detail and texturing. There's still more detail here than is apparent on the Blu-ray edition, but only by a very small margin. High Dynamic Range does make more of a difference here, fortunately, rendering a more lush, natural, and vibrant color palette, as well as a broader range of contrast, and just a bit more shadow detail.
The audio is included in a new Dolby Atmos (7.1 Dolby TrueHD compatible) mix that's nothing short of extraordinary. The Blu-ray's previous 7.1 DTS-HD Master Audio mix was already phenomenal, with deep and resonant bass, impressive dynamic range, and tremendously atmospheric use of the surround channels. But the Atmos imaging is much more precise and offers a greater sense of depth and immersiveness to the soundstage. The height channels are employed to terrific effect with both subtle and dramatic sound cues, especially impactful in scenes where the drones move around the frame. Really, this is one of the best Atmos mixes I've heard to date. Additional audio options include 5.1 Dolby Digital in French and Spanish, with optional subtitles available in English SDH, French, and Spanish.
In terms of extras, the 4K Ultra HD disc includes the original Blu-ray audio commentary featuring Kosinski and Cruise – it's an interesting listen but nowhere do they really address the film's larger concepts in much depth (and Cruise tends to use buzzwords like "iconography" a lot). The package also includes that original Blu-ray Disc, which offers the film in 1080p, the commentary, 4 deleted scenes (4:25 in all – HD), and the 5-part Promise of a New World: The Making of Oblivion documentary (includes Destiny, Voyage, Combat, Illusion, and Harmony – 48 minutes in all – HD). But the best extra by far is M83's complete isolated score in high resolution. You also get an insert code for a Digital HD version of the film.
Don't get me wrong: Oblivion looks and sounds terrific on 4K Ultra HD Blu-ray. It's just not nearly as much of a visual improvement (over the previous Blu-ray edition) as we've seen with most other titles on this format. It's a shame that this film wasn't originally finished in true 4K. Still, the new Atmos mix is certainly improved and remains a reference quality audio experience. If you're a diehard fan of this film, this disc is probably worth the upgrade. Just keep your expectations in check and look for it on sale, if at all possible.
- Bill Hunt