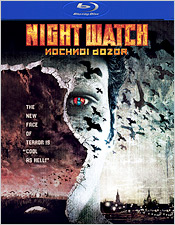 Director
Timur Bekmambetov
Release Date(s)
2004 (September 9, 2008)
Studio(s)
Channel One Russia/Bazelevs Co. (20th Century Fox)
Film/Program Grade: B
Video Grade: B
Audio Grade: A-
Extras Grade: B-
Review
[Editor's Note: This review text refers to both Night Watch and its sequel Day Watch. Click here for our specific review database entry for Day Watch on Blu-ray.]
Now here's another pair of highly stylized action films, effectively a part one and part two. Like the Kill Bill films, you're probably either going to love them or hate them. Night Watch and Day Watch are directed by Timur Bekmambetov and are based on a series of books by novelist Sergei Lukyanenko. Night Watch became the highest grossing film to date in Russia upon its release there. I first saw Night Watch theatrically back in March of 2006, during its North American art house run, and quite enjoyed it. I don't want to spoil too much about the plot, because you really need to just see it for yourself. I will say that Night Watch is the first part of a trilogy about a thousand-year old cold war between Good and Evil, that's being waged just beneath the surface of our own present-day reality. Visually and stylistically it's pretty cool – sort of a grungier, budget-rate version of The Matrix, with a dash of Blood the Last Vampire horror and a bit of Star Wars father/son mythology tossed in. Day Watch is the bookend film that completes the story. A third film, set to be called either Dusk Watch or Twilight Watch (Sumerechniy Dozor) is apparently due to be released next year. It's rumored to be a prequel set (at least in part) in the past, when the war first began, and also to have been filmed in English (as it's financed by Fox).
Fox's new Blu-ray editions offer generally very good 1080p video quality. Night Watch was shot 35 spherical at 1.66:1 and was presented in the 1.85:1 Flat format theatrically, so that's how it's presented here on Blu-ray. Day Watch, on the other hand, was shot Super 35 and was presented theatrically at 2.35:1 Scope, so the Blu-ray is 2.35 as well. Contrast is excellent on both. Color is a little muted by design (but it's accurate at all times) and there's good image detail. You will notice grain in both, but particularly in Day Watch (owing to the difference in cinematographic processes used in each film's production), but that was also apparent theatrically. The grain does occasionally become a little distracting in Day Watch, however, so you'll note the video quality score is just a hair lower. On the audio front, both discs offer excellent DTS-HD MA surround mixes (in the original Russian) that are big, lively and highly atmospheric, resulting in excellent immersion and creation of space. The surrounds are very active and the bass is thunderous. They're very pleasing mixes that support the images well. English dubbed audio is also available in standard DTS format, but trust me... the films are better in their original language.
There are a couple things I want to note here about the films before we move onto the extras: First, there are apparently some differences between the original Russian theatrical versions of these films and the International/American releases (check out Wikipedia or IMDB for a complete list). What's presented here are the American versions in unrated form – the same as the previous DVD releases. The other thing I wanted to mention, is that the English subtitles are unfortunately just the standard subs electronically generated by the player. When these films were shown theatrically, they featured animated subtitles that were highly stylish and sophisticated. Text would drift in and out, would evaporate or swirl across the screen, would be different colors, etc. All of this really contributed to the mood of the scene. This was recreated for the DVD release, but it hasn't been for the new Blu-ray release, and that's very disappointing. I understand why it wasn't done: Neither of these films made a ton of money, and reproducing the animated subs on home video in high-definition would likely have required multiple (and expensive) new HD masters for each language. So while I'm disappointed, I guess I can accept this. What I hope is that Fox decides to revisit these titles in a few years, and can then justify the greater expense of presenting the subs as they were originally intended. Still, if you want the subs as they should be, that alone is probably going to be a deal-breaker in terms of your decision to upgrade to Blu-ray.
In terms of extras, Night Watch on Blu-ray offers everything that was on the previous DVD release, including the original audio commentary with Bekmambetov, the subtitled commentary by Lukyanenko, the Night Watch Trilogy featurette and an extended ending. The Blu-ray also adds exclusive new material, including 2 new featurettes (The Making of Night Watch and Characters, Story and Subtitles), 7 deleted scenes with optional commentary, a comic book still gallery, a poster gallery, the trailer and D-Box enhancement. The Day Watch Blu-ray also has everything that was on the previous DVD release, including a commentary with Bekmambetov, The Making of Day Watch featurette, TV spots, 6 Russian trailers and the film's U.S. trailer. The only new extra on the Blu-ray version is D-Box enhancement.
Night Watch and Day Watch certainly aren't going to be everyone's cup of tea, but for me, I think it's absolutely fascinating to see a Russian take on what has been previously a Western-dominated genre: the big-budget special effects epic. So much of what's going on in these films is informed by Russian history and cultural sensibilities, that I'm actually interested in reading the original novels to try to and appreciate it all better. In any case, even if you just watch these for the style and action – the flash and thunder, so to speak – I don't think you'll be disappointed. These films are well worth a look, and the Blu-rays are easily the best and most enjoyable way to do so.
- Bill Hunt