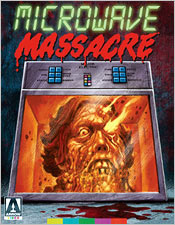 Director
Wayne Berwick
Release Date(s)
1983 (August 16, 2016)
Studio(s)
Reel Life Productions/Select-a-Tape (Arrow Video)
Film/Program Grade: D+
Video Grade: A-
Audio Grade: B
Extras Grade: C+
Review
Filmed in 1981 but not released until 1983, Microwave Massacre is one of the most politically incorrect horror comedies you're ever likely to see. Some call it a guilty pleasure while others regard it as nothing more than trash for the bin. However, it has managed to generate a tiny cult following, mostly by those who are fans of bad movies. The story tells of Donald (Jackie Vernon), a working stiff whose life is in disarray due to his nagging wife and the unappetizing meals she cooks for him. After a night of heavy drinking, he goes home and decides to do what any terrible husband would do to his nagging wife – he kills her, chops her up, and stuffs her in the refrigerator. Once he accidentally samples the leftovers though, that's when he discovers that human flesh will satisfy his hunger just fine. So he'll have to go out and acquire more of it.
There's just no way of getting around the fact that Microwave Massacre is, more or less, junk. The dialogue and the acting are absolutely atrocious most of the time, if not all of the time, and some scenes don't even seem to belong in the movie other than to pad it out with more tasteless humor and gratuitous nudity. A seemingly washed-up Jackie Vernon spends much of the film handing out horrible one-liners, one after the other, even intentionally breaking the fourth wall from time to time. The fact that Rodney Dangerfield was the first choice to play Donald would have automatically made it a more watchable movie. Of course, comparisons can easily be made to Eating Raoul, which was released one year earlier. It actually feels like a cheaper and less-refined version of that, if such a thing could exist. But whereas Eating Raoul had interesting characters with some sort of logic (in their own way), Microwave Massacre is bereft of it.
On the other hand, the movie is also kind of fascinating to watch in that none of the elements at play really work, making it somewhat spellbinding in its awfulness. I certainly wouldn't consider the movie thoroughly inept. It's nothing like The Room, which is totally tone deaf and doesn't understand anything, even basic structure. Microwave Massacre sort of understands that. At times, there seems to be a method to the madness. The opening shot, for instance, is an out-and-out send-up of the opening of Saturday Night Fever, but instead of John Travolta, we're treated to a young, voluptuous blonde. Then we're upended when she gets her boobs out and sticks them through a hole in a construction site fence, just to tease the men behind it. There's also the moment when Donald "samples" his wife for the first time. There's a bit of build up to that moment, but again, once it happens, it's thrown out the window. The ending certainly didn't do much to please either. It makes sense that Donald would eventually get his just desserts, if you'll pardon the expression, but it kind of lands with a bit of a thud (save for the unmotivated, batshit final moment, which I won't spoil). All of these elements combine to make for an astonishingly bad movie that plenty of unintentional yucks can be derived from.
Microwave Massacre on Blu-ray looks and sounds better than it has any right to. Arrow Video's 2K restoration from the original camera negative yields a very organic-looking presentation, with some surprisingly even grain levels throughout. Fine detail is not immense, but is excellent in certain spots, particularly in close-ups. Color reproduction is also good with some decent skin tones, deep blacks, and some nice shadow detailing. Brightness and contrast levels are satisfactory and there's been no attempt to augment the footage digitally. It's a very stable image as well with very little film artifacts leftover, aside from some mild speckling. The audio is presented in a single English mono LPCM track. Dialogue is mostly clear (that is, what has actually been properly miked). It's a very centered presentation, as to be expected, but music and sound effects have some decent weight to them. However, there are lots of age-related issues leftover, including hiss, crackle, distortion, and dropouts. In some areas it's worse than others, and it only aids the movie in its sleaziness. Note that there are also subtitles in English SDH for those who might need them.
The extras are brief but worth checking out. They include an audio commentary with director Wayne Berwick; the My Microwave Massacre Memoirs retrospective; an image gallery; the original theatrical trailer; the original treatment and 8-page synopsis accessible via BD/DVD-ROM; a DVD copy of the movie; and a 28-page insert booklet with an essay on the film by Stephen Thrower.
Truth be told, Microwave Massacre is the kind of movie even the most astute horror fan probably hasn't ever heard of. Indeed, I hadn't heard of it myself until this release came along. It's certainly not on par with most other absurdist comedies out there, horror or otherwise. Its original aim was comedy, perhaps even a bit of satire, but it failed tremendously. Yet it succeeded on some level in spite of itself. The one-liners alone are so terrible that they're worth sitting through the movie for. And even though it definitely feels longer than it actually is, especially on an initial viewing, Microwave Massacre is a quick watch. At only 76 minutes, it's at least worth a look, but only for the insanely curious.
- Tim Salmons