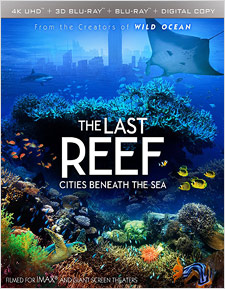 Director
Luke Cresswell, Steve McNicholas
Release Date(s)
2012 (September 13, 2016)
Studio(s)
Yes-No Productions/Liquid Pictures/Giant Screen Films/IMAX (Shout! Factory)
Film/Program Grade: B
Video Grade: B+
Audio Grade: B
Extras Grade: B-
Review
Taking its viewers around the world for a look at the role played by vast coral reefs in the Earth's oceans, The Last Reef also examines the many lifeforms that call this environment home, and details the process by which today's reefs are being threatened by climate change, ocean acidification, and other manmade effects. The film is lush and beautiful to look at, filled with gorgeous large format underwater photography, as well as macro photography, and time-lapse footage of urban cityscapes. It's informative too, though it's also a bit dry compared to some of the other recent IMAX documentaries released in Ultra HD.
Shout! Factory's 4K release is a 2-disc set. The first is an Ultra HD Blu-ray disc that includes two versions of the film in 4K – one with HDR and one without. The film was shot both digitally and on 65mm film using 3D and IMAX cameras. Post production was completed in 4K (at 3840 x 2160 resolution) and the resulting DI provided the source for this release, following the completion of an HDR color timing pass. The image is presented here at the 1.78:1 aspect ratio. The high dynamic range looks good, with vibrant colors, but it doesn't pop quite as much as you might expect – certainly not as much as it does on some of the other Shout! 4K IMAX titles. The film's soundtrack is included in English Dolby Atmos format. Clarity is excellent and there's nice atmospherics, though with mostly music and narration, the mix isn't terribly active in terms of surround gimmicks. Audio options are also available in 5.1 DTS-HD Master Audio in both French and Spanish, with optional English closed captions.
Extras on the 4K disc include 7 short behind-the-scenes featurettes, all in upconverted HD: Ocean Acidification (2:44), Filming in Bimini (1:56), Editing and Scoring (2:52), Jellyfish Lake (2:22), Macro Filming in Palau (3:37), Reef and the City (2:16), and Statues Under the Sea (2:04). There's also an image gallery, and 4K trailers for The Last Reef, Wonders of the Arctic, Rocky Mountain Express, Journey to Space, Flight of the Butterflies, and Humpback Whales, all of which are now available on 4K UHD Blu-ray format from Shout (click on the title links for our reviews of each).
The second disc in the package is a Blu-ray that includes the film in high-definition in both 2D and 3D versions. The A/V quality of each presentation is very good overall. The 3D delivers lovely depth, sometimes exaggerated given the many schools of fish and other creatures moving in the foreground. Note that there's a code for a digital download version in the package too.
If you have an interest in its subject matter, The Last Reef is well worth 39 minutes of your time. In terms of its overall A/V quality and 4K "wow" factor, however, I'd suggest that you look to some of Shout!'s other Ultra HD Blu-ray titles first.
- Bill Hunt