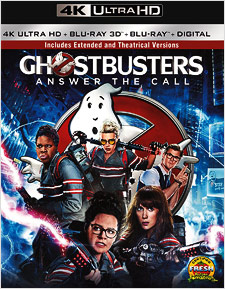 Director
Paul Feig
Release Date(s)
2016 (October 11, 2016)
Studio(s)
Village Roadshow/Columbia Pictures (Sony Pictures Home Entertainment)
Film/Program Grade: C
Video Grade: A-
Audio Grade: A+
Extras Grade: A
Review
Much fuss was made over the news, many months ago now, that director Paul Feig had been hired to remake Ivan Reitman's Ghostbusters. Predictably, the He-Man Woman-Hater contingent of film nerds pitched a fit in all the usual places online about the revelation that the remake would feature an all-female cast. Meanwhile, longtime fans of the original film complained with somewhat greater justification, having long since grown tired of the seemingly endless number of remakes coming out of Hollywood in the second decade of the 21st Century.
But here's the thing: It's not that Ghostbusters (2016) is a bad movie. It's not. In fact, I would imagine that if you haven't seen the original film, you might find this pretty funny. On the other hand, if you have seen the original (and you're fond of it), there's nothing new here whatsoever. Feig's remake follows most of the same beats, just with slightly different twists, but it's essentially the same plot – so much so that there's really no point in my encapsulating it for you. Most of the set-pieces are simply updated versions of scenes from the original film. So it is too with the film's XX chromosome cast members (though Kate McKinnon does her level best to steal the show as a reverse-gendered Egon-type named Dr. Jillian Holtzmann). Feig and company are trying so hard to be reverential, with nods to the Reitman film in damn near every scene and cameos a-plenty, that they forget to really try and break new ground. As a result, Ghostbusters (2016) just isn't very funny. Speaking personally, I got one really good laugh from this film… and that's it.
There's another reason for the lack of laughter here though, which is that the theatrical version feels padded and self-indulgent even at 116 minutes. But the Extended Cut included on the 4K disc adds another 15 minutes of material that the film really doesn't need. Whereas the original film delivered a gag and quickly moved on, trusting that its audience was smart enough to get it, every joke here feels belabored. Modern comedy films all too often suffer from a kind of improv-itis, where every other joke is accompanied by a dreadful (and typically ad-libbed) beat in which the all participants acknowledge and react to the joke. Not only does this undermine the impact of the comedy, it makes each scene drag on just a lot too long. Less is always more, in humor as in life.
Sony's 4K Ultra HD Blu-ray package is a 3-disc set. The UHD Blu-ray disc contains the Extended Cut of the film in 4K resolution, upscaled from the original 2K Digital Intermediate. The aspect ratio would seem to be standard 2.39:1 scope framing but, at several times during the presentation, visual elements break out of the frame to full the entire 1.78:1 display (ghosts, specters, energy blasts, etc). The image quality is excellent, with abundant fine texturing. Black levels are superb, while even the brightest image areas retain plenty of detail. Colors are rich, incredibly vibrant, and accurate, and of course the High Dynamic Range is employed to full effect in the film's paranormal sequences. Audio is included in English Dolby Atmos (7.1 Dolby TrueHD compatible), as well as English Descriptive Audio, and Spanish 5.1 Dolby Digital. The Atmos mix is near reference quality, with terrific clarity, a big, wide, and tall front soundstage, smooth panning and highly lively and immersive use of panning effects. Subtitles are available in English, English SDH, and Spanish.
The second disc in the set is a regular Blu-ray that offers the film in 1080p HD in both theatrical and Extended Cut versions. Extras on this disc include audio commentary (with Feig and co-writer Katie Dippold), a second commentary (with editor Brent White, producer Jessie Henderson, production designer Jeff Sage, visual effects supervisor Pete Travers, and special effects supervisor Mark Hawker), a pair of gag reels (HD – 7:30 and 7:59), 4 deleted scenes (HD – 9:22 in all), 11 extended and alternate scenes (HD – 21:14 in all), and 6 Jokes a Plenty featurettes (HD – 34:30 in all), plus Meet the Team (HD – 8:04), The Ghosts of Ghostbusters (HD – 13:57), Visual Effects: 30 Years Later (HD – 15:16), Slime Time (HD – 5:15), Chris Hemsworth is "Kevin" (HD – 7:42), a photo gallery (it runs about 1:32 if you play it as a slideshow), and previews.
The third disc here is a Blu-ray 3D of the theatrical cut only, with no extras. The 3D presentation is actually quite good. This film is perfect for 3D treatment, really, and the Blu-ray 3D image doesn't disappoint. It features wonderful depth and dimensionality. When the ghosts and other visual effects break the 2.39:1 frame, they really pop out at you. It's a clever effect that worked well in theaters and is nearly as effective at home.
If Sony's Ghostbusters remake fails to live up to its pre-release hype, both the good and the bad, the studio at least deserves credit for doing something that 4K fans have asked for all year: They've included Blu-ray, Blu-ray 3D, and 4K in a single SKU. On top of which, you get a Digital HD code in the package too, making this an easy one-stop purchase for fans, not to mention a better all around value. I don't know how many actual fans of this film there are, but there you go.
- Bill Hunt
Tags
2016
,
4K
,
Annie Potts
,
Bill Hunt
,
Bill Murray
,
Blu-ray 3D
,
Blu-ray Disc
,
Charles Dance
,
Chris Hemsworth
,
Dan Aykroyd
,
Ernie Hudson
,
Ghostbusters
,
Harold Ramis
,
HDR
,
High Dynamic Range
,
Ivan Reitman
,
Kate McKinnon
,
Kristen Wiig
,
Leslie Jones
,
Melissa McCarthy
,
Michael K Williams
,
paranormal
,
Paul Feig
,
remake comedy
,
review
,
Sigourney Weaver
,
Slimer
,
The Digital Bits
,
UHD Premium
,
Ultra HD Blu-ray