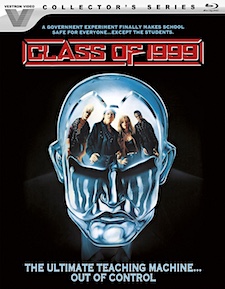 Director
Mark L. Lester
Release Date(s)
1990 (January 30, 2018)
Studio(s)
Lightning Pictures/Lionsgate (Vestron Video Collector's Series)
Film/Program Grade: C+
Video Grade: B
Audio Grade: B+
Extras Grade: B-
Review
Class of 1999, Mark L. Lester's follow-up to his grimy cult classic Class of 1984, takes a detour into a completely different story, but like the original, touches upon themes involving society, crime, school, and teenagers. In the distant future, a social misfit (Bradley Gregg) goes back to school after being released from prison to try and rectify his life. Said school is Kennedy High School, situated within a war zone where teenage gangs rule the streets. At the end of his rope, Principle Langford (Malcolm McDowell) reaches out to the Department of Education Defense, an organization run by Dr. Forest (Stacey Keach) that develops cybernetic humans. He installs three of them (John P. Ryan, Pam Grier, and Patrick Kilpatrick) into Kennedy High as teachers, but things soon turn ugly as the three turn rogue and go on a killing spree, leaving the teens to somehow defend themselves.
Class of 1999 is, by and large, an exploitation movie in the grandest sense. While its director was going for something that was as much thematic as it was volatile, there's no way not to misinterpret it for what it is. It wears its influences on its sleeve, including The Terminator, RoboCop, and Escape from New York, but a lesser director might have gone for something more overtly serious, which is not the direction to take for this kind of material. Lester, however, seemed to know what he was dealing with. Outside of the seasoned veterans, the performances are fairly mediocre. And while there are bits of it throughout, the final war-torn ending descends full-on into schlock territory and there's no way not to enjoy it. Because of this, Class of 1999 is also a complete 180° from its predecessor, going more for exuberance than shock.
Vestron Video's Blu-ray premiere of the film features a transfer that's quite good. The element used for it isn't in the best condition, as evidenced by occasional density issues and leftover damage, but it's a naturally-appearing presentation. It sometimes appears soft, but grain is mostly well-rendered, if not a bit clumpy. Detail is also good, particularly during the latter half of the film when we actually get to see some of the robots' inner workings. The color palette is well-represented but not all that potent, while skin tones tend to waver. Black levels are occasionally crushed, but overall brightness and contrast are at appropriate levels. Scratches, speckling, and holes in the frame are frequent, but there are no signs of enhancements to be found. The opening credits exhibit the most unappealing aspects of the presentation, but things begin to improve thereafter. The sole audio option provided is an English 2.0 DTS-HD track with optional subtitles in English SDH and Spanish. A surprisingly strong stereo soundtrack, many of the instances of explosions and gunfire are amply supplied with LFE and dynamic range. Ambient activity is also common, while score and musical elements (including a background snippet of Nine Inch Nails) also have some muscle to them. Dialogue is clean and clear as well.
The extras, produced by Red Shirt Pictures, include an audio commentary with producer/director Mark L. Lester in which he speaks well about the film's production; School Safety: Assembling the Class of 1999 with Lester and co-producer Eugene Mazzola, who offer plenty of behind the scenes anecdotes; New Rules with screenwriter C. Courtney Joyner, sharing his experiences with writing the film; Cyber-Teachers from Hell: The Special Effects of Class of 1999 with special effects creators Eric Allard and Rick Stratton; Future of Discipline with director of photography Mark Irwin, which also covers some his other work, as well as his feelings about the film; the original theatrical trailer in HD; 2 TV spots; an animated still gallery; and an 8-minute video promo, which covers the film's plot and features some behind the scenes footage.
Class of 1999, like many titles featured in the Vestron Video Collector's Series line, has always been a title on DVD that's been featured in different multi-packs and has never really been given the special edition treatment. For its fan, this is a terrific package offering a pretty good transfer and quality supplemental materials. It's also the kind of film you might want to program for your next film party as it likely works better with an audience. Regardless, this is a fine upgrade.
- Tim Salmons
Tags
1990
,
Action
,
Blu-ray
,
Blu-ray Disc
,
Bradley Gregg
,
C Courtney Joyner
,
Class of 1999
,
Collector's Series
,
Eric Allard
,
Eugene Mazzola
,
horror
,
John P Ryan
,
Joshua Miller
,
Lightning Pictures
,
Lionsgate
,
Malcolm McDowell
,
Mark Irwin
,
Mark L Lester
,
Mark Lester
,
Michael Felsher
,
Michael Hoenig
,
Pam Grier
,
Patrick Kilpatrick
,
Red Shirt Pictures
,
review
,
Rick Stratton
,
robot
,
robots
,
Scott Conrad
,
Stacey Keach
,
The Digital Bits
,
Tim Salmons
,
Traci Lind
,
Vestron Video
,
Vestron Video Collector's Series