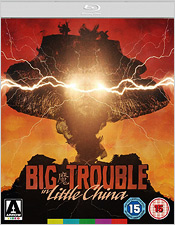 Director
John Carpenter
Release Date(s)
1986 (December 16, 2013)
Studio(s)
20th Century Fox Home Entertainment (Arrow Video U.K.)
Film/Program Grade: B+
Video Grade: A
Audio Grade: A
Extras Grade: A+
Review
[Editor's Note: This is a REGION B Blu-ray. You need an all-region Blu-ray player and display equipment compatible with PAL standard definition content to view it properly.]
As Todd noted in his review of the Big Trouble in Little China: Special Edition DVD, "Who doesn't love this frickin' movie?" You'd have to be a cynic of immense magnitude not to find some entertainment value in Big Trouble in Little China. It may have done poorly upon its theatrical release, but it has developed a cult following as strong as any other John Carpenter film from that same era.
Jack Burton, a blow-hard, American tough guy, accidentally finds himself caught in the middle of a war between underground Chinese gangs in San Francisco. After Jack's semi-truck is stolen, he learns that the supernatural Chinese overlord Lo Pan is hell-bent on kidnapping two women with green eyes in order to break an ancient curse. Jack enlists the help of his local Chinese friends, including his close friend Dennis, in order to get Jack's truck back, save the girls, stop Lo Pan, and get the hell out of Little China.
Jack Burton, for all intents and purposes, is not your typical action hero. The marketing team behind the movie tried to sell it as an action vehicle for Kurt Russell's character, which goes against what his character is all about. He's a rude, uncultured truck driver who wants nothing more than to get back out on the road, avoiding trouble wherever he finds it. The idea of fighting off gangs of ninjas and attempting to save some people is not really on his list of things to do, of which there is very little. If the marketing campaign had reflected this, it might not have made that much of a difference at the box office, but it certainly would have made for a more honest ad campaign. As such, the movie still found an audience on cable and on home video.
John Carpenter and Kurt Russell had already made Elvis: The Movie, Escape From New York, and The Thing together, so by the time this project came along, they were quite comfortable with each other and ready to take on a project that was less serious and more fun than any of Carpenter's previous work. Big Trouble in Little China is a romp with lots of kung fu and action set pieces, as well as some impressive special effects, many of which hold up better today than most other movies that were released during the 1980s. All of that mixed with Kurt Russell's goofy persona make for a fun, lighthearted movie that, while not perfect, is one of the most entertaining action movies ever made.
It should be duly noted that Arrow Video's release of Big Trouble in Little China is Region B locked, meaning you need a native or region free player in order to watch it.
Arrow Video's high definition presentation of the film is quite pleasing. It appears to be a similar, if not the same transfer used for the U.S. Blu-ray release of the film. Grain is handled quite well and appears very natural, although black levels aren't as inky deep as they could be because of it. It's not a big deal though. Fine detail is excellent, especially as it pertains to background portions and costumes. But where this transfer's strength truly lies is in its color palette. This has always been a very beautiful movie to look at because of the variety of rich colors on display, and this presentation reproduces them perfectly. Skin tones also appear quite natural, and both contrast and brightness levels are very satisfying. There also appears to have been no attempt at digitally tweaking or altering the presentation in any way. When it comes to the audio selection, there are two tracks to choose from: English 5.1 DTS-HD and English 2.0 LPCM. Personally, I feel like the 2.0 track is a better representation of the film and feels more adjusted to the proceedings, but the 5.1 track is no slouch. There's plenty of surround activity, opening up the rear speakers for score and sound effects, and dialogue is always clear and discernible. There's also some nice LFE from time to time. It's a matter of preference really, but both tracks are quite good and should leave little room for complaint. Subtitles in English and have been included for those who might need them.
Much to my delight, everything has been carried over from all of the film's previous releases on DVD and Blu-ray. First up is a terrific audio commentary with John Carpenter and Kurt Russell (one of my personal favorites); an optional isolated score track in 5.1 DTS-HD; an interview with visual effects producer Richard Edlund; a vintage making-of featurette; a set of deleted scenes, including an extended ending; the music video for the Coup De Villes' title song; a behind-the-scenes gallery; three theatrical trailers (including a Spanish one); and six TV spots. New to this release are five separate interviews, all of them great: Return to Little China (John Carpenter), Being Jack Burton (Kurt Russell), Carpenter and I (director of photography Dean Cundey), Producing Big Trouble (producer Larry Franco); and Staging Little Trouble (stuntman Jeff Imada). Also included is a 38-page booklet with an essay on the film by author John Kenneth Muir, a reprint of an article on the film from American Cinematographer by Les Paul Robley, and various stills and posters. This release is also available as a Steelbook release, if you're so inclined.
If you're a fan of Big Trouble in Little China, you owe it to yourself to import this release. It trumps all previous releases of the film and is worth the price, especially if you can get it on sale. Highly recommended.
- Tim Salmons