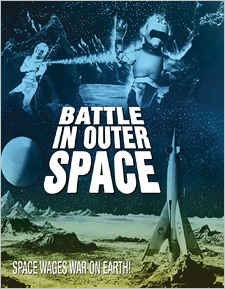 Director
Ishirō Honda
Release Date(s)
1959 (October 2, 2018)
Studio(s)
Toho/Columbia Pictures (Sony Pictures Home Entertainment)
Film/Program Grade: B
Video Grade: C-
Audio Grade: B
Extras Grade: D
Review
After the original Godzilla (Gojira) from Toho was a huge success, they continued to produce an onslaught of sci-fi films, basically dominating the genre. This core group of filmmakers included writer Shinichi Sekizawa, director Ishiro Honda, composer Akira Ifukube, and special effects guru Eiji Tsuburaya, who was responsible for bringing everything to spectacular life. But by the late 1950s, director Honda began to switch to alien attack films, beginning with The Mysterians in 1957, which was a big enough hit to do a follow-up: Uchū Daisensō, known to U.S. audiences as Battle in Outer Space.
Taking place in the 1965 of the future, Battle in Outer Space is a science fiction thriller about an alien race, the Nataris, who intend to conquer Earth. As a part of their takeover, they cause a series of natural disasters, leading the United Nations to act. Representatives, led by major Ichiro Katsumiya (Ryo Ikebe), professor Adachi (Koreya Sendaand), and Dr. Richardson (Len Stanford), attempt to find a solution in order to defeat the invading aliens, but the Nataris begin controlling the minds of humans, including Iranian delegate Dr. Achmed (Malcolm Pearce), sabotaging experimental weaponry. As the Earth prepares for the invasion of the evil extraterrestrials, a fierce war soon begins across the galaxy.
The film also features a cast of familiar Japanese actors, including Kyōko Anzai, Minoru Takada, Katsumi Tezuka, Hiyasa Ito, and Yoshio Tsuchiya, who appeared and worked together frequently in other Japanese science fiction films. Yet despite their presence, they often take a backseat to the special effects, which are highlighted by vast amounts of laser fire, explosions, rocketships, and beautifully-detailed miniatures of New York, San Francisco, and Tokyo. Featuring a score by composer Akira Ifukube, who is best known for his work on Godzilla, and great cinematography by Hajime Koizumi, Battle in Outer Space is exciting from start to finish. It slowly builds to a rollercoaster ride of a movie, culminating with one of the most spectacular intergalactic pre-Star Wars battles ever shot.
Previously available in the Icons of Toho DVD set, Sony presents Battle in Outer Space on Blu-ray for the first time. The good news is that they are now using pressed discs, not BD-Rs. The bad news is that, while the film is presented in Tohoscope with a 2:35:1 original aspect ratio, the image is just average. Everything about it, including detail in both daylight and nighttime scenes, is underwhelming. Colors are more on the flat and muted side when they should be more robust. There's also an abundance of vertical lines, speckling, and other minor print damage throughout the presentation. Flesh tones look good, but lack any texturing. Black levels are somewhat balanced, but aren't as deep as one would expect. The audio options, which include Japanese and English 2.0 DTS-HD tracks, are exceptionally loud and clear. There are no dropouts or other issues, while the score is quite strong, but sounds a bit more amplified on the Japanese track. Dialogue is also clear and discernible, Optional English subtitles are available for both tracks, but it appears that English dubtitles have been used for the English language track, which some might find to be a letdown. The lone extra for this release is ported over from the DVD, which is an audio commentary with authors and Japanese sci-fi historians Steve Ryfle and Ed Godziszewski. It's also worth discussing that the version of the film included on this release is the 90-minute U.S. cut, while the original, uncut Japanese version, which runs several minutes longer, is absent. So if you own the previous DVD of the film that features the longer cut, you might want to hang onto it for now.
I would call Battle in Outer Space the Japanese equivalent of Ray Harryhausen's Earth vs. The Flying Saucers, meaning that it's a terrific edge-of-your-seat science fiction film with UFOs in place of giant monsters. But the question now stands: is this a worthy high definition upgrade? The answer is both yes and no. Yes because the image quality is marginally better, but no because the original version of the film isn't a part of the package.
- David Steigman
Tags
1959
,
Akira Ifukube
,
Akira Watanabe
,
aliens
,
Battle in Outer Space
,
Blu-ray
,
Blu-ray Disc
,
camp
,
Columbia Pictures
,
David Steigman
,
Eiji Tsuburaya
,
Elise Richter
,
Godzilla
,
Gojira
,
Hajime Koizumi
,
Harold Conway
,
Hiyasi Ito
,
Ishirō Honda
,
Japanese cinema
,
Jojiro Okami
,
kaiju
,
Katsumi Tezuka
,
Kazuji Taira
,
Koreya Senda
,
Kyoko Anzai
,
Leonard Stanford
,
Minoru Takada
,
monsters
,
review
,
Ryo Ikebe
,
science fiction
,
Shin'ichi Sekizawa
,
The Digital Bits
,
The Mysterians
,
Toho Studios
,
Tohoscope
,
Tomoyuki Tanaka
,
Uchū Daisensō
,
Yoshio Tsuchiya