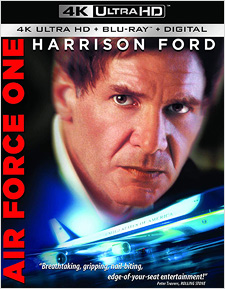 Director
Wolfgang Peterson
Release Date(s)
1997 (November 6, 2018)
Studio(s)
Beacon Pictures/Columbia Pictures/Radiant Productions (Sony Pictures Home Entertainment)
Film/Program Grade: A
Video Grade: A-
Audio Grade: A-
Extras Grade: D
Review
Harrison Ford and Gary Oldman square off at 30,000 feet in this terrific actioner about the hijacking of the Air Force One. While on a visit to Moscow, the President of the United States (Ford) has placed the bad guys of the world on notice—the U.S. will no longer tolerate, or negotiate with, terrorists. But wouldn't you know it, a group of Russian radicals posing as a TV news crew (and led with zeal by Oldman) has managed to hitch a ride on the President's return trip. Shortly into the flight, they wrest control of the 747, taking the First Family and forty other passengers hostage in the process. But the President, now a stowaway on his own plane, engages in a high-stakes game of cat-and-mouse to prove that he can back up his tough talk... and save the lives of those closest to him.
As with all action films, Air Force One requires some suspension of disbelief by its audience. Could terrorists really get aboard the President's plane, even with inside help? Unlikely. Thankfully, Ford is entirely believable as the President. Back in Washington, Glenn Close is equally good as his VP. And the leads are backed by a solid supporting cast (including William H. Macy of Fargo fame), the deft direction of Wolfgang Peterson (In the Line of Fire, Das Boot, Outbreak), a fine Jerry Goldsmith score, and nail-biting aerial effects sequences that keep the suspense coming until the very end. Really, my only complaint about Air Force One is that Harrison Ford never returned to his Jack Ryan role in the Tom Clancy films after this. Ah well. How do you go back to playing CIA after President of the United States?
Air Force One was shot photochemically in Super 35 format with Arriflex cameras and Zeis Prime anamorphic lenses. It was finished on film and released theatrically in the 2.39:1 "scope" aspect ratio. For this UHD release, the original camera negative (and presumably the internegative for opticals and transitions) was scanned in native 4K and graded for high dynamic range in HDR10. Given that the film was shot in Super 35, you're going to expect (and certainly get) a steady wash of moderate film grain here. But it's never distracting. The good news is that there's lovely image detail here, a very nice upgrade from the previous HD presentation. Textuing is tight and refined, except where the image is occasionally optically soft. The added color depth and wider gamut really enhances the film's palette. You can see this almost from the start in the joint US/Russian banquet scene in Moscow. HDR also emboldens the highlights—just look at the cutlery on the banquet tables, for example, as well as the lighting in the cockpit, and the F-15 afterburners—and it makes the shadows inky black. I wouldn't call this a reference presentation, but the film has certainly never looked better.
Primary audio on the 4K disc is available in a new English Dolby Atmos mix that enhances the sonic experience nicely. The soundstage is medium wide up front, with nice vertical extension for atmospherics and moments of aerial combat. Bass is firm. Dialogue is clean, with good clarity. The surround channels engage often during gunplay and the aforementioned combat, and the movement is smooth and natural. Again, it's not reference quality, but the Atmos is a nice upgrade for this film. Additional audio options include English and French 5.1 DTS-HD Master Audio, and Spanish Dolby Digital 2.0 stereo. Optional subtitles include English, English SDH, French, and Spanish.
Sony's 4K Ultra HD includes two special features only:
Audio Commentary with director Wolfgang Peterson
Theatrical Trailer (HD – 2:27)
Both of these are carried over from the original DVD release (the Blu-ray had only the commentary, so at least the trailer is back). There's nothing else included, aside from that previous Blu-ray edition (not remastered from the new scan) and a Movies Anywhere Digital Copy code on a paper insert.
Air Force One is a rock solid entertainment from start to finish—a film I can't help stopping to watch whenever I come across it while flipping channels. Despite the lack of extras, Sony's Ultra HD is a marked A/V upgrade over the previous Blu-ray edition and it's cheap too. If you're a fan, picking this disc up is a no-brainer.
- Bill Hunt
(You can follow Bill on social media at these links: Twitter and Facebook)
Tags
1997
,
35 mm film
,
4K
,
Air Force One
,
Andrew W Marlowe
,
Bill Hunt
,
Columbia Pictures
,
Dean Stockwell
,
Dolby Atmos
,
Gary Oldman
,
Glenn Close
,
Harrison Ford
,
HDR
,
HDR10
,
High Dynamic Range
,
Jerry Goldsmith
,
Liesel Matthews
,
Michael Ballhaus
,
native 4K scan
,
Paul Guilfoyle
,
review
,
Russian radicals
,
Sony Pictures Home Entertainment
,
Super 35
,
terrorists
,
The Digital Bits
,
Ultra HD Blu-ray Disc
,
William H Macy
,
Wolfgang Peterson
,
Xander Berkeley