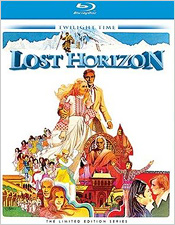 Director
Charles Jarrott
Release Date(s)
1973 (December 11, 2012)
Studio(s)
Columbia (Twilight Time)
Film/Program Grade: B
Video Grade: A
Audio Grade: A-
Extras Grade: A-
Review
Ross Hunter was in the business of dreams. The famously flamboyant producer of light fare including Tammy and the Bachelor (1957), Pillow Talk (1959), Flower Drum Song (1961) and Thoroughly Modern Millie (1967) had a reputation for glossy, frothy fun. But he had more than pure escapism on his mind when he turned his attention to a lavish remake of Frank Capra's classic 1937 film Lost Horizon, based in turn on the 1933 novel by James Hilton.
The new film would tackle the same serious themes as the original via a screenplay by Larry Kramer, Academy Award nominee for 1969's Women in Love and future writer of The Normal Heart. With the Vietnam War still raging, the explicitly anti-war story would still resonate. It would all be set to a score by an Academy Award-winning team of songwriters, Burt Bacharach and Hal David, who had already begun incorporating social commentary into their sophisticated pop style with songs like "The Windows of the World" and "Paper Mache." But as so often happens in Hollywood, Hunter's hopes for a timeless cinema classic were dashed when critics savaged the earnest epic. Lost Horizon made its debut on DVD in 2011 via Columbia Pictures' MOD (made on demand) DVD-R series with a bounty of extra features and restored material. Now, that edition has itself been bettered by the film's Blu-ray debut from Twilight Time. Thanks to this stellar release, the film can be re-evaluated by those asking, "Just what went wrong?"
It was 1933 when James Hilton first imagined the idyllic Shangri-La tucked away in a Tibetan valley where illness, age and poverty are unknown. One year later, after the success of Hilton's Goodbye, Mr. Chips, readers discovered Lost Horizon, and it became a bestseller. In 1937, Frank Capra adapted it into a well-regarded film version starring Ronald Colman, which won two Academy Awards out of seven nominations, and in 1939 the paperback edition of the original Hilton novel became Pocket Book No. 1. Both the novel and Capra's film can be interpreted as explicitly anti-war; when a 1942 re-release of the film cut one of Colman's speeches in which he mocked war, Capra balked. Hunter wasn't the first to seize upon a notion of a musical version; a 1956 Broadway adaptation starring Jack Cassidy, Alice Ghostley and Carol Lawrence expired after a mere 21 performances at Broadway's Winter Garden Theatre, now the home of Mamma Mia! But Shangri-La (with song titles including both "Lost Horizon" and "Shangri-La") was destined for obscurity. Hunter, perhaps filled with hubris, didn't shy away from the repercussions of remaking a beloved classic, and used the 1937 film as his touchstone. Even as the era of the big-budget musical was fading and the filmmakers of the New Hollywood gaining ascendancy, he envisioned an all-star, all-singing, all-dancing extravaganza.
To helm the tale of a party of travelers who literally discover paradise and then must decide whether to return to the realities of the outside world or remain forever in Shangri-La, Hunter chose director Charles Jarrott (Anne of the Thousand Days, Mary Queen of Scots). But his inexperience with musicals and old-guard sensibility as expressed in those costume dramas didn't make him an ideal fit for the production. The casting didn't help. Although the production was a musical, an actor's vocal and choreographic prowess didn't always seem to be taken into account. Of the lead performers, musical veterans Sally Kellerman (the ill-fated Broadway musical Breakfast at Tiffany's), James Shigeta (the film of Flower Drum Song) and Bobby Van (No, No, Nanette, On Your Toes) performed their own songs. The Hollywood practice of dubbing extended to Peter Finch, Olivia Hussey and Liv Ullmann, whose own vocals were replaced by those of Jerry Whitman, Andra Willis and Diana Lee, respectively. Charles Boyer was enticed to appear in the non-singing role of the High Lama, and John Gielgud and Michael York appeared in non-singing parts, too. Of the leads, Van evinces consistent charm and panache. In his role as a third-rate song-and-dance man, he proved that he was first-rate, even able to transcend Hermes Pan's goofy choreography in his big musical moments.
Jarrott failed to establish a consistent tone for the film. The rough half hour which begins the film plays like a straight thriller, with some spectacular action sequences. Once we visit Shangri-La, however, it morphs into a musical with mixed, frequently campy results. Larry Kramer hewed closely to the original's screenplay, but didn't bring a new or compelling POV to the story. The sophisticated music is sometimes at odds with the prosaic lyrics, and the realistic elements don't always gel with the fantastic ones. What worked in Frank Capra's film here seemed overblown, and although Hunter spared no expense on the sets, the feel of a studio backlot was never completely obliterated in this semi-extravagant extravaganza. It's also hard not to wince at the ethnic stereotypes, including John Gielgud as Chang, his eyes taped for an Asian effect. Lost Horizon is an earnest, overlong, and oddly entertaining film that collapses under the weight of its own ambitions. It exists somewhere between the twin poles of "a disaster of epic proportions" and "so bad, it's good."
There are many glimpses of a "might-have-been" success had the director, screenwriter, composers and production designers all been on the same page. As the picture was developed around the Bacharach and David score, it's not surprising that those songs are the film's biggest assets. The best of David's lyrics expressed a sentiment shared by many of the optimistic generation who hadn't yet felt their ideals vanquished by the reality of Vietnam and growing dissension under the White House of President Richard M. Nixon. Bacharach and David both identified with the project's themes, and their passion was evident in the songs they composed. Bacharach commented, "Imagine! Somewhere in Tibet, in the middle of those mountains, there is a place called Shangri-La. Where you can live forever - almost. And you can stay healthy! And there is love! And peace! It's exactly what everybody wants today." Hal David concurred: "The picture deals with the hope for things wonderful and people getting along and finding a peaceful solution and a happy solution to life. And that kind of philosophy has been very dear to me and very close to me all my life."
The musical sequences come to life in the Blu-ray's sparkling print. Though Lost Horizon looked wonderful on DVD, its varied and bright colors practically leap off the screen due to the BD format's enhanced resolution. (You'll likely take special notice of the matte paintings employed throughout the film.) Presented in 2:40:1 anamorphic widescreen, the rich details in Shangri-La are eye-popping. The diverse score, now presented in 5.1 DTS-HD Master Audio, includes both low-key ballads and sublimely ridiculous production numbers. It's frequently the former, quieter moments (Peter Finch and Liv Ullman's "I Might Frighten Her Away," Finch's "If I Could Go Back") that provide the film's most transcendent and openly emotional moments. These reflective sequences were ultimately overwhelmed by the camp excesses, but even those aren't without their pleasures.
Though Liv Ullmann's Catherine leads the infectious "The World is a Circle," the most famous song from the score, it's Bobby Van who shines most brightly with his musical comedy prowess. Although Ullmann is far from a natural musical presence, the song is completely irresistible as the giddy choreography and swelling music build to a crescendo. Van takes the lead on the other big set piece, "Question Me an Answer." The all too simple lyrics - "Learning can be lots of fun" - are David's weakest, but Van entertainingly sells the song. Almost as delicious is "The Things I Will Not Miss," with Sally Kellerman's Sally and Olivia Hussey's Maria dancing blithely through a library in Shangri-La to a pulsating melody. Though it may be difficult to take these scenes onscreen seriously, their innocent joy is potent.
Produced by Brian Jamieson and Nick Redman, Twilight Time's disc (like last year's MOD DVD) adds more of the film than was available on Pioneer's 1992 laserdisc, the only home video presentation of Lost Horizon prior to 2011. Some 20+ minutes of footage were cut after the film's premiere, including the campy "Fertility Dance." It's joined here by an array of other reinstated songs: "Living Together, Growing Together (Reprise)"; "If I Could Go Back"; "Where Knowledge Ends (Faith Begins)"; and "I Come to You (Alternate)." Only that last-named sequence hasn't been added into the body of the film itself, as it's truly an alternate with different staging than employed in the final film. These additions bring Lost Horizon to a 149-minute running time. What's still missing from the original cut? Although the newly-discovered "Fertility Dance" concludes with a brief reprise of "Living Together, Growing Together," a second reprise of this song, sung by Sally Kellerman and George Kennedy, hasn't yet turned up in the Columbia vaults. (Some accounts dispute that this second reprise ever existed.) The restored print, however, is unquestionably the main attraction. All of these added sequences with the exception of the standalone "If I Could Go Back (Alternate)" have been restored to fantastic effect, matching the rest of the film.
Other special features on this deluxe Blu-ray include two TV spots, a teaser trailer and the full theatrical trailer. The teaser and theatrical trailers both appear to be restored, while the TV spots are less impressive. Hunter himself narrates the theatrical trailer onscreen, proudly declaring it "the finest of the 46 films I've produced!" He's also at the center of one featurette. Ross Hunter on the Way to Shangri-La includes behind-the-scenes footage emphasizing the giant scale of the film produced by "one of the film industry's most successful and dedicated producers." Curiously dropped from this edition is the simply-titled Ross Hunter Promo, which was included on last year's DVD along with the above-named bonuses. That unfinished promotional reel is absent, despite having offered some illuminating observations from the showman. At one point in the eight-and-a-half minute short, Hunter offers, "It really is not a musical... it's not fully a drama... I call it a musical drama because it's truly a combination of both." He likely didn't realize that the film's lack of a consistent tone and style may have ultimately hampered its success.
Then there are the two strongest bonuses, not coincidentally related to the film's strongest element: its music. The eight-song, 23+-minute demo tape performed by Burt Bacharach on both vocals and piano first appeared on the DVD, and it's been carried over here. The composer is as enthusiastic on "The World is a Circle" as he is tender on "I Might Frighten Her Away." The sound is terrific, and the demos are accompanied by a still photo gallery presented as a film strip. Listening to its demo recording, you'll learn that the final lyrics for "Question Me an Answer" weren't Hal David's first; the original "Question Me" was littered with pop culture references, name-checking Greta Garbo, Don Ameche, Dorothy Lamour and Elvis Presley!
A music-only track, included on Pioneer's laserdisc, was missing from the MOD DVD. Twilight Time, which specializes in the inclusion of isolated score tracks, has righted that wrong. Bacharach's instrumental score has never been released on CD, but a listen here reveals that it's as rich and flavorful as his song score. As with most isolated score tracks, the lyrics aren't heard, but their absence simply offers an even more clear opportunity to savor the complex, masterful orchestrations by Bacharach, Leo Shuken and Jack Hayes. Alas, the lengthy movie has been divided into just twelve chapters, making it difficult to jump to a particular song you wish to hear with or without lyrics. The film and its music do sound better than ever in the discrete, if rather conservative, 5.1 mix, and the DTS-HD track is, of course, an improvement over the Dolby Digital 5.1 on the DVD. English SDH subtitles are also present.
As is customary for Twilight Time's limited edition releases, a booklet with new liner notes has been enclosed. Julie Kirgo supplies an entertaining essay in which she evenhandedly evaluates the merits of the motion picture. She opines that "I Might Frighten Her Away" is "perhaps too thoughtful to make for a good show tune, but the music alone is lovely, sensitively orchestrated by Bacharach, [Shuken and Hayes]." Though there are plenty of sensitive show tunes, Kirgo is nonetheless astute in observing that this character song is at the heart of Lost Horizon. Rather than being the disaster of legend, the film as a whole simply can't live up to its most stellar scenes and songs. Twilight Time's edition is limited to 3,000 units.
"Have you ever dreamed of a place far away from it all? Where the air you breathe is soft and clean, and children play in fields of green? And the sound of guns doesn't pound in your ears anymore?"
If so, Ross Hunter's Lost Horizon is available once again for you to enjoy. This visually stunning and bonus-packed BD edition proves that often the most flawed films can be revealed as among the most grandly rewarding to revisit.
- Joe Marchese