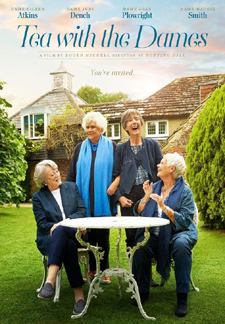 Director
Roger Michell
Release Date(s)
2018 (January 15, 2019)
Studio(s)
Field Day Productions/Kew Media Group/The Dames Production/IFC Films (MPI Home Video)
Film/Program Grade: B-
Video Grade: A-
Audio Grade: A
Extras Grade: D-
Review
Dame Eileen Atkins, Dame Judi Dench, Dame Joan Plowright, and Dame Maggie Smith are acting legends and longtime friends. All in their 80s, they get together from time to time for lunch and gossip. Director Roger Michell (Notting Hill) thought it would be interesting to film one of their get-togethers. This idea became the motion picture Tea with the Dames.
In a series of sessions, without pre-staging or traditional direction, the women are seen talking about their careers, their husbands, health issues, and whatever else comes into their minds. Depending on where the conversation takes them, Michell interpolates illuminating archival clips of their performances from the BBC, movies, and stage.
Atkins points out that all four of them thought they were bound for careers on the stage, yet fate and opportunity allowed them to branch out into other media and be seen by larger audiences. They all share stories of stage fright and being intimidated by directors and older actors.
The film has a rambling quality but often produces some gems. Plowright mentions that her American agent searched for "a nice little cameo that Judi Dench hasn't got her paws on." When director Peter Hall offered Dench the role of Cleopatra, she inquired, "Are you sure you want a menopausal dwarf to play this part?"
Maggie Smith, frightened at undertaking a difficult Shakespearean role, accepted it only because, she says dryly, "the production was to be in Canada." She also complains about the heavy hats she had to wear as the Dowager Countess in Downton Abbey and admits to never having seen the series, though "I've been given a boxed set."
Plowright, completely blind, confesses that she was more frightened of then-husband Laurence Olivier, head of the National Theater, than she was of the critics. She also recalls being told by a director early in her career that she "can't play queens." Atkins turned down the role of Cleopatra four times because she felt she wasn't pretty enough, and would advise her younger self to be less bad-tempered.
Though it's fun to see these legends as themselves, this approach has its pros and cons. Their candidness is refreshing and often very funny. However, there is also a palpable feeling that they're expected to perform – to be witty, controversial, naughty, or unpredictable. You can see that without scripts, which are their tools of the trade, they're not as larger than life as their roles make them. Too often, scenes lose steam as the women search for the next topic point. Perhaps director Michell wanted to give us the impression we were joining these ladies at an informal gathering, but he only succeeds in dragging out the proceedings and inducing us to look at our watches.
The opening scene is at a table in a lush garden in front of the old country estate Plowright shared with Olivier. Later scenes are confined to interiors due to incessant rain. Despite the lulls, it's fascinating to watch the interaction among this acclaimed quartet. The repartee is usually clever, often self-deprecating, and honest.
Tea with the Dames is neither documentary, in the strictest sense, nor scripted feature. It is a unique way of eavesdropping on women who started as fledgling actresses in the 1950s and became acting royalty, and whose careers have entertained audiences for decades.
The Unrated DVD contains a widescreen image presented to preserve the aspect ratio (1.78:1) of its original theatrical exhibition. The soundtrack features Dolby audio. Picture quality varies. Outdoor scenes, shot under cloudy skies, look a bit washed out, but interiors are well lit. Shot primarily around a table as multiple cameras filmed, scenes capture the spontaneity of the four friends.
The only bonus material on the Unrated release is the film's theatrical trailer.
– Dennis Seuling
Tags
2018
,
Alan Bates
,
Alan Rickman
,
Anne Miller
,
Bob Hoskins
,
Dennis Seuling
,
documentary
,
DVD
,
DVD Disc
,
Eben Bolter
,
Eileen Atkins
,
Field Day Productions
,
Finty Williams
,
Frank Finlay
,
George Devine
,
IFC Films
,
Joan Plowright
,
Joanna Crickmay
,
Judi Dench
,
Karen Steyn
,
Kenneth Williams
,
Kew Media Group
,
Maggie Smith
,
Mark Bell
,
Michael Aspel
,
Michael Williams
,
MPI Home Video
,
Nothing Like a Dame
,
Prince Charles
,
Queen Elizabeth II
,
Queen Elizabeth the Queen Mother
,
review
,
Robert Morley
,
Roger Michell
,
Rory Kinnear
,
Rupert Grint
,
Tea with the Dames
,
Terry Wogan
,
The Dames Production
,
The Digital Bits
,
Vanessa Redgrave