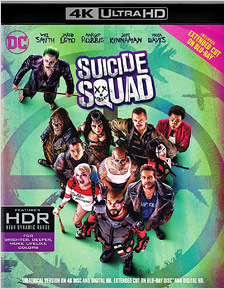 Director
David Ayer
Release Date(s)
2016 (December 13, 2016)
Studio(s)
DC/RatPac-Dune (Warner Bros)
Film/Program Grade: D
Video Grade: A
Audio Grade: A
Extras Grade: B-
Review
My goodness. I don't even know where to start with this film. So… the ball-busting social worker from Traffic (Viola Davis) has gone all Bruce Wayne circa Batman v Superman and lined-up a team of unsavory metahumans to kick a little ass in the event some new alien threat arrives to cause trouble, then quickly needs to activate her "suicide squad" when one of the alien threats she's lined-up actually does cause trouble by going all Witchiepoo on Midway City. So it's Deadshot (Will Smith), Harley Quinn (Margot Robbie), Captain Boomerang (Jai Courtney), El Diablo (Jay Hernandez), Killer Croc (Adewale Akinnuoye-Agbaje), Katana (Karen Fukuhara), and Slipknot (Adam Beach) to the rescue, because I assume it was a DC comic book or somesuch. Plus Joker (Jared Leto) is in this film for reasons I can't begin explain, because he doesn't really serve any purpose in the story.
Suicide Squad is almost the kind of bad that to actually review it and call it bad feels like beating up a special needs child. Two things are (comparatively) good here: Will Smith and Margo Robbie. The former grounds the proceedings with a Mirror Universe version of his aw-shucks charisma, while the latter pirouettes through the frame with a twisted grin and tucks the whole show into her back pocket. The rest of this mess was just ill-advised at every level, which is a real shame. Suicide Squad could (and should) have been a cleverly subversive lark, but something seems to have gone badly wrong behind the scenes. The film starts with – I'm not kidding – like twenty minutes of exposition set to pop music and soon devolves into a strange mix of clichés and ham-fisted dialogue. "Her heart's out! We can end this!" Oh dear God, please do. Then there's The Joker. Now, I know there are people who liked Jared Leto in this role, but I'm gonna call shenanigans. Director David Ayer really needed to reign him in here, because Leto seems to have gotten completely lost in his process. Traditionally, The Joker doesn't just have a screw loose; there's always a dangerous method to his madness. But this Joker seems to exist for the sole purpose of appearing insane on screen as Harley's infrequent guy pal. Worse yet, Leto somehow manages to make his iconic character seem boring, which I didn't even think was possible. (But it is.)
Suicide Squad was shot on film using Arriflex and Panavision cameras, then finished to a 4K Digital Intermediate. Warner Bros. Home Entertainment presents it here in 2.39:1 widescreen in full 4K, with an almost shockingly dark-vibrant HDR color-timing pass. Much of this film takes place at night or in murky shadows and yet there's a tremendous amount of fine detail visible. Highlights seem blistering by comparison, without ever actually being overblown, and when the colors do come out to play (as in the film's title sequence) they almost sizzle off the screen. No doubt about it, Suicide Squad looks great. It sounds great too, with primary English audio in Dolby Atmos format. The mix is highly dynamic, with the height channels engaging often (especially during the helicopter sequence and when the squad is underground in the subway tunnels). The LFE support is punchy and tight, dialogue is clear at all times, and the channel-to-channel panning is smooth and immersive. Additional sound options include English Descriptive Audio (both U.S. and U.K. versions), French, Italian, Castilian Spanish, Latin Spanish, Portuguese, Czech, and Polish, with subtitles available in those flavors and seven more.
There are no extras on the actual 4K disc, which includes the theatrical cut of the film. However, the enclosed Blu-ray Disc offers the 13-minute longer Extended Cut of Suicide Squad in 1080p HD. Extras on this Blu-ray include the following in HD:
Task Force X: One Team, One Mission (23:08)
Chasing the Real (9:37)
Joker & Harley: "It" Couple of the Underworld (14:29)
Squad Strength and Skills (9:00)
Armed to the Teeth (11:48)
This Is Gonna Get Loud: The Epic Battles of Suicide Squad (10:54)
The Squad Declassified (4:19)
Gag Reel (2:04)
You also get a paper insert with a Digital HD Copy code. The extras are actually not bad; they have some substance and are worth watching if you care enough about this film to do so. The Extended Cut adds a number of new moments, scenes, and scene extensions, including a bit more of Harley and Joker's relationship. Most of this material is cosmetic filler that does little to resolve the film's problems, though there are some cute moments here and there. However you feel about this film, though, the Extended Cut isn't likely to change your mind. What's sorely missing on this disc is a candid director's commentary, because I'd really like to hear Ayer explain what the hell happened here.
Watching Suicide Squad just makes me sad for everyone involved (save Smith and Robbie, per my comments above). Seriously, I know there are good people who worked really hard on this project and, to all of you, I'm sorry. This is a terrible, horrible, no good, very bad film. So naturally, Warner and DC are already planning three sequels. At least Suicide Squad looks and sounds amazing in 4K with Dolby Atmos. That's certainly something. If you're a diehard DC fan, this is probably a film you'll want to own, and 4K Ultra HD Blu-ray is definitely the version you need. So, I guess, recommended… kinda?
- Bill Hunt
(You can follow Bill on social media at these links: Twitter and Facebook)
Tags
2016
,
4K
,
action
,
Adam Beach
,
Adewale Akinnuoye-Agbaje
,
Bill Hunt
,
David Ayer
,
DC Comics
,
Deadshot
,
Harley Quinn
,
HDR
,
High Dynamic Range
,
Jai Courtney
,
Jared Leto
,
Jay Hernandez
,
Karen Fukuhara
,
Margot Robbie
,
review
,
The Digital Bits
,
The Joker
,
Ultra HD Blu-ray Disc
,
Viola Davis
,
Warner Bros
,
Will Smith