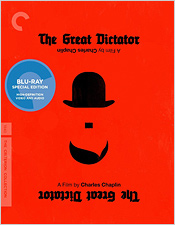 Director
Charlie Chaplin
Release Date(s)
1940 (May 24, 2011)
Studio(s)
Charles Chaplin Productions/United Artists (Criterion - Spine #565)
Film/Program Grade: A
Video Grade: A
Audio Grade: A
Extras Grade: A
Review
Up next is what is considered to be Chaplin's most successful film, The Great Dictator. It's hard to deny why its appeal is much greater than some of his other work, even if you don't agree with it. What could have been just a silly exercise in outright buffoonery turns out to be one of the cleverest and most thought-provoking films in the Chaplin library. Most would assume it to be just another send-up, not unlike what people like Mel Brooks and Seth MacFarlane did later, but it's much deeper and a bit smarter than that. It takes a bolder approach, showing us the effects of war and what they can do to the kindest and simplest of people without the cynicism. In particular, Chaplin's impassioned speech at the end of the film about war, love and peace. What comedy film would have you glued to your chair and to the point of tears at the end of its film with nothing more than a speech? Very few, that's for sure.
On the other hand, there's the comedy itself, and being that this is the first Chaplin film with an actual soundtrack, the comedy is more precise. There's Chaplin's outrageous and over-exaggerated take on the way that Hitler (Hynkle) speaks, but there's also the classic Tramp character himself as nothing more than a simple barber. It really speaks volumes about the film's genius because Chaplin takes the simplest of comedic characters, a funny man in a barbershop, and pits him against one of the greatest threats to humanity that the world has ever known. He wasn't the first comedian to lampoon Adolph Hitler, even at that time, but his portrayal is likely the most revered. A lot of the more visual antics of Chaplin's previous work are gone, and instead we have an abundance of audible jokes. It's a great contrast to Chaplin's style, and his ability to change with the times so effortlessly. Chaplin had been making terrific and memorable films up to this point, but it's The Great Dictator which seems to have the most fingers pointing at it today as Chaplin's grand film masterpiece rather than yesterday when it was mostly steeped in controversy.
Criterion's treatment of the film on Blu-ray is spectacular, to say the least. It looks every bit as good, if not better, than it likely did its original run. The images are very crisp and film grain is nice even. There's an overall bit of flutter to the images, but it's not too noticeable, which is pretty remarkable for a film its age. Contrast isn't too high either, and there's an abundance of image detail to be found. Film grain is nice and solid, as well. The film also comes with its original mono soundtrack, which is just as wonderful as the visual presentation. It's been cleaned up considerably well, and sounds very, very good (especially since this is Chaplin's first film with a proper soundtrack). There are also subtitles in English for those who might need them.
There's also a nice bounty of extras to cull through. There's an audio commentary by Charlie Chaplin experts Dan Kamin and Hooman Mehran; the documentary The Tramp and the Dictator, which parallels the lives between Chaplin and Hitler; two visual essays; color production footage; the barbershop sequence from Sydney Chaplin's 1921 film King, Queen, Joker; the deleted barbershop sequence from Chaplin's 1919 film Sunnyside; the re-release trailer; and finally, a 30 page-booklet featuring an essay by film critic Michael Wood, Chaplin's 1940 New York Times defense of the film, a reprint from critic Jean Narboni on the film's final speech, and Al Hirschfeld's original press book illustrations. Overall, this is a fantastic release, and one that Chaplin fans should be totally satisfied with. It's a beautiful film with a powerful message that still manages to make us laugh just as much as move us.
- Tim Salmons