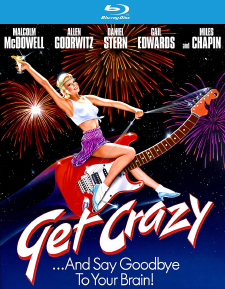 Director
Allan Arkush
Release Date(s)
1983 (December 7, 2021)
Studio(s)
Embassy Pictures (Kino Lorber Studio Classics)
Film/Program Grade: B
Video Grade: B+
Audio Grade: B-
Extras Grade: A
Review
[Be sure to read Stephen's original review of the Kino Lobrer Blu-ray release of Get Crazy first.]
But wait! There's more...
It can take a lot of work to produce even a bare-bones home video release of an obscure catalogue title like Get Crazy, let alone one that's filled with both new and vintage extras like Kino Lorber's release. Allan Arkush was generous enough to provide a behind-the-scenes glimpse of what was involved, as well as a look at two extras that couldn't be included on the disc because they ran out of time and money. (Physical media is such a niche market these days that there simply aren't unlimited resources involved with it, especially for small specialty labels like Kino Lorber.)
It took a minor miracle to locate the picture and sound elements, even though they were hiding in plain sight the whole time. They were in the MGM vaults, and had been there for at least a decade, but they'd been mislabeled when they were transferred from vault to vault. Worse, more than half the paperwork was completely missing, and that caused serious issues regarding the rights for the music usage in the film. (Music licensing is often one of the banes of home video, and it has kept more than one classic film or television series from seeing the light of day, at least in unaltered form.) They even found the "clean" textless version of Lou Reed's performance of Little Sister before the closing credits were optically printed over it, but unfortunately that wasn't scanned along with the negative—an omission that Arkush regrets.
The vintage music videos that are included on the disc came from an even more secure vault: Allan Arkush's closet, where they had been since 1983. Those were on VHS and Sony 3/4" tape, in mono at 1.33:1. The new music video was shot by the members of Nada on their iPhones and cut together by Mark Helfrich on his laptop—even the extras capture the "let's put on a show" nature of the film.
The After Life documentary consisted of Zoom interviews, cut together by Helfrich and Madison McCabe, with music editing by the film's original music editor Ken Karman, and additional music provided by record producer Ed Stasium. The stills that they used were provided by Amalie Rothschild, who was the house photographer at the Fillmore East, as well as by members of the cast and crew.
The first of the two extras that couldn't be included on the disc is a raw video of Arkush offering his personal memories of working at the Fillmore East. He started as a customer, then became an usher, before graduating to the stage crew, including working on the light shows. Among other things, he was there for the opening tour of Led Zeppelin in 1968, luckily working the front row. He talks about the shows that were most impactful for him personally, and shows off his collection of LPs and CDs of some of the greatest shows that played at the Fillmore. It's a nice reminder that for all of the antics on display in Get Crazy, it's a genuinely personal film for Arkush.
The second of the two missing extras is in more complete form. Our Lives Were Saved by Rock n Roll is naturally dedicated up front to the man who wrote those heartfelt words, Lou Reed, with an additional dedication at the end to Flo & Eddie's Howard Kaylan. It features interviews with most of the same cast and crew members who participated in the main documentary, including Kaylan, Malcom McDowell, Ed Begley, Jr., Daniel Stern, Stacey Nelkin, Gail Edwards, Dan Frischman, Lee Ving, and the members of Nada. It's divided into five sections. Opening Riffs features many of the participants discussing their own musical backgrounds, both professional and otherwise (Arkush even gets Stern to sing a line from his high school performance of Fiddler on the Roof.) Memorable Concerts has Arkush asking everyone to describe their first concerts as well as their favorite ones. As a group, they saw an amazing number of classic acts—Jimi Hendrix, Janis Joplin, Elvis Presley, Led Zeppelin, Little Richard, The Who, Elton John, The Ramones, X, Fear, The Mothers of Invention, and many, many more. For 1st Records and Musical Influences, Arkush asks them to remember the first records that they ever owned, and what the experience meant to them. The Beatles is an inevitable look at what The Beatles meant to everyone. Most mind-blowing moment: McDowell says that he actually saw them back in the early days when they were still going by the short-lived name The Silver Beetles. Arkush also asks some of them about what it was like to see The Beatles perform for the first time on The Ed Sullivan Show in February of 1964. Rock Stories returns to the subject of personal rock and roll experiences. It includes Dan Frischman telling a fairly surreal story about having to explain ventriloquism to Bob Dylan, and closes with Arkush's own tale about the The Who performing Tommy for the first time at the Fillmore East, which didn't quite go as expected. Taken as a whole, Our Lives Were Saved by Rock n Roll is a great reminder that thanks to music, everything's alright now.
Will either of these missing extras ever see the light of day in some form or another? It's not likely, but anything is possible. After all, Get Crazy was just resurrected after languishing in obscurity for nearly four decades. Regardless, it's interesting to see all of the work that goes into producing special editions like this, and the tough decisions that sometimes have to be made. Thanks to Allan Arkush for giving us a peek behind the curtain.
As a postscript, there's one thing related to Get Crazy that remains lost, and may never be found: the original soundtrack. It was released back in 1983 on vinyl and cassette tape by Morocco Records, which was a short-lived imprint of Motown Records—so short-lived, in fact, that it only ran from 1983-1984. The master tapes should be in the Universal Music vaults, but they aren't there. It's an eclectic soundtrack that cries out for a re-release, but that may never happen. The original LPs go for a premium price these days, so if you have a copy, count yourself very lucky indeed.
- Stephen Bjork
(You can follow Stephen on social media at these links: Twitter and Facebook.)
Tags
1983
,
Allan Arkush
,
Allen Garfield
,
Allen Goorwitz
,
Anna Bjorn
,
Barry Diamond
,
Bill Henderson
,
Blu-ray
,
Blu-ray Disc
,
Bobby Sherman
,
Carolina Hidalgo
,
Chuck Hanson
,
Clint Howard
,
comedy
,
D and P Productions
,
Dan Frischman
,
Daniel Kremer
,
Daniel Stern
,
Danny Opatoshu
,
David Taylor
,
Denise Galik
,
Dick Miller
,
Ed Begley Jr
,
Eli Roth
,
Embassy
,
Embassy Pictures
,
Fabian
,
Fabian Forte
,
Fear
,
Franklyn Ajaye
,
Gail Edwards
,
Get Crazy
,
Henry Rosenbaum
,
Herbert F Solow
,
Howard Kaylan
,
Hunt Lowry
,
Jackie Joseph
,
John Densmore
,
Kent Beyda
,
Kino Lorber
,
Kino Lorber Studio Classics
,
Lee Ving
,
Linnea Quigley
,
Lori Eastside
,
Lori Eastside and Nada
,
Lou Reed
,
Malcolm McDowell
,
Marcus Parks
,
Marshall Crenshaw
,
Mary Woronov
,
Michael Boddicker
,
Michael Jablow
,
Miles Chapin
,
musical
,
musical comedy
,
No Dogs in Space
,
Paul Bartel
,
review
,
Robert Picardo
,
Sparks
,
Stacey Nelkin
,
Stephen Bjork
,
Susan Saiger
,
The Digital Bits
,
The Ramones
,
Thomas Del Ruth